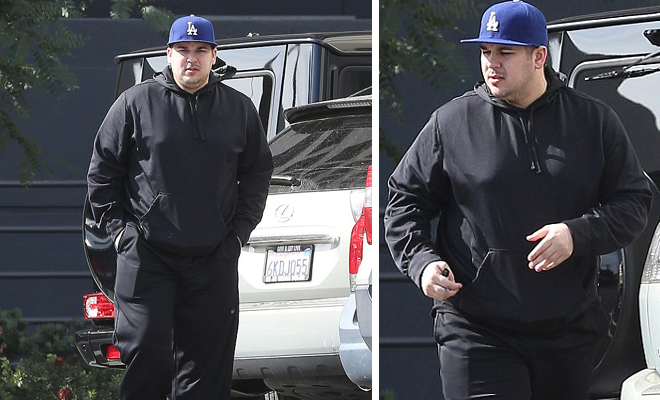 Call me crazy, but I'm going to go out on a limb and say that Rob Kardashian's 2014 is not off to a great start.
Last time we checked in with He Kardashian in October last year, he was grossly overweight, resembling something like a Michelin Man version of himself. But at the time, Rob said he was actively trying to lose the weight.
Not only has he not lost the weight he said he would, Rob actually looks BIGGER than he did last year. Photos of Rob exiting a gym surfaced and it's clear that Rob had a jolly Thanksgiving and Christmas and he wasn't shy about going back for seconds or thirds.
The Daily Mail reports that a lot of the personal turmoil in Rob's life might be fueling his astonishing weight gain.
The reality TV star has had a tough time this past year. He gained more than 60lbs after his split from singer Rita Ora, and has since made headlines for his fluctuating weight. On top of that he's also been grappling with premature balding.
In addition, he is said to have struggled with the breakdown of sister Khloe's marriage with his close friend Lamar Odom as well as his mother's separation from Bruce – his stepdad of 22 years.

Rob apparently feels his mother wasn't there for him when he needed her.

'Kris tried to get him a weight-loss deal and pushed him to promote a hair-loss supplement,' said the source. 'He feels like the family abandoned him when he needed them most. For him, life is more than just a business deal.'
One of the signs that his weight gain is causing him pain and shame is that Rob has deleted all of the photos and videos he's posted on his Instagram and Twitter accounts. Instead, he's posting throwback photos of himself back in his skinny days like this:
Look, if Rob Kardashian is gonna be this big, he might as well embrace it and cease and desist with his life in the shadows. He can call up Gabby Sidibe for a few good tips on how to embrace his new fatty lifestyle and also ask her how she developed such a thick skin.
Or, he could just stay away from Krispy Kreme, ditch the Popeye's, avoid Mickey D's and hide from Chipotle. They say that food is not the enemy, but in Rob's case, it's the equivalent of an Al-Qaeda terrorist. The War on Cellulite is on!
Be the first to receive breaking news alerts and more stories like this by subscribing to our mailing list.