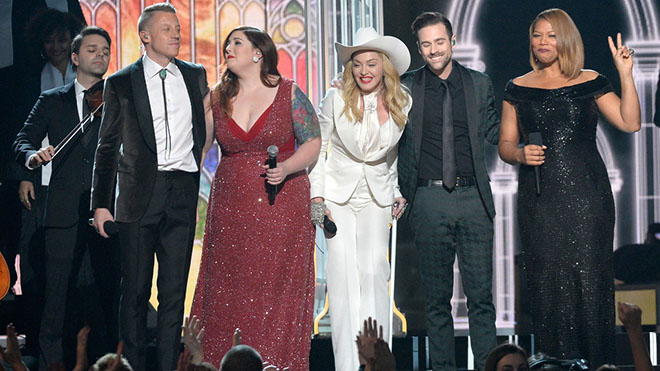 Macklemore & Ryan Lewis were joined onstage by Queen Latifah and the Supreme of Pop Madonna to perform their #1 hit single "Same Love" at the 2014 Grammy Awards.
The performance, which saw Latifah officiating the marriage of over 30+ couples (both straight and gay), made for one of the most touching and ironic showings of the night!
Call me a cynic, but I can't help but throw a side-eye at the song's blatant message of tolerance of same-sex relationships, yet its lead singer is not only straight, but says everything in the song he possibly can to distance himself from homosexuality. We get it, you're not gay.
Not to mention, Queen Latifah is arguably one of the most recognizable faces showcasing a successful and beautiful lesbian woman, yet she's never publicly stepped out of the closet.
Meanwhile, Madonna couldn't be any more gay-friendly if she tried. Mmmm…now do you see the irony? No matter, this was still one of the best performances of the night featuring Madge's 1986 fifth US number-one single, "Open Your Heart."
Macklemore & Ryan Lewis ended the night with four Grammy Wins, including Best New Artist and Best Rap Album (which, pissed a LOT of people off, unsurprisingly).
WATCH MACKLEMORE & RYAN LEWIS PERFORM "SAME LOVE" WITH MADONNA & QUEEN LATIFAH AT THE 2014 GRAMMYS ABOVE
Be the first to receive breaking news alerts and more stories like this by subscribing to our mailing list.