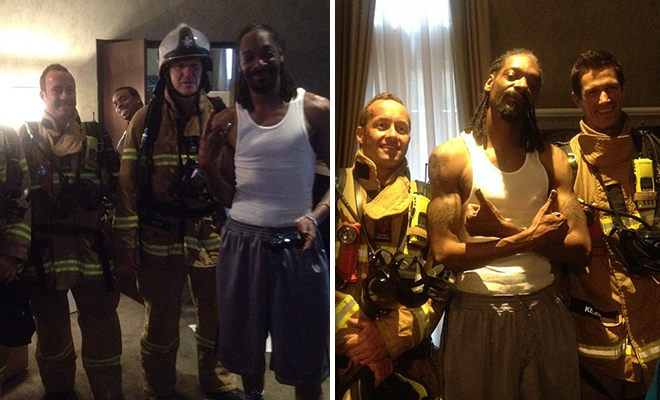 By now everyone in the whole world knows Snoop Dogg (or Snoop Lion… whatever he's calling himself today) is one of the biggest advocates of smoking marijuana.
I mean, the guy practically stays high 24 hours a day, 7 days a week, 365 days a year. (366 if it's a Leap Year!)
Snoop Dogg Smokes 81 Blunts A Day, and Other Hilarious Admissions from His AMA Reddit Interview
Well, Thursday night, Snoop smoked up a storm in his Australian hotel room. So much so, that firefighters had to be rushed to the scene, because hotel staff thought "Oh, lawd Jesus, it's fahr" and dialed 000 — the Australian equivalent of 911.
But there was no fire. Apparently, Snoop's weed smoking session set off a fire alarm in his room, and once firefighters arrived they found nothing but a ton of pot smoke.
Afterwards, Snoop posed with the firefighters for a couple of Instagram pics (which he captioned "Blew it down !!") and talked about how he always wanted to be a firefighter.
"It was pretty funny," senior station officer Bowen Trevor told The Guardian. "We had a brush with Mr Snoop himself. He asked us for a photo because he said he always wanted to be a firefighter."
Bowen described the rapper and his entourage as "friendly" and "ordinary."
"If you didn't know who they were you would just think they were very friendly, ordinary people," he said. "It was an amazing chance encounter, which would probably be one of the highlights of my 26 years with the [Melbourne Fire Brigade]."
Bowen added that he sent pictures of himself posing with Snoop to his three children — aged 12, 14, and 21 — who he says are all big fans, and they didn't believe him at first.
"My 21-year-old sent me a photo saying is this photo real or a set-up?" Bowen said. "He couldn't believe it."
Only Snoop can get away with smoking up a storm in a hotel room, producing so much smog that the fire department had to be called (LOL)….he has to be one of the coolest guys alive.
Be the first to receive breaking news alerts and more stories like this by subscribing to our mailing list.