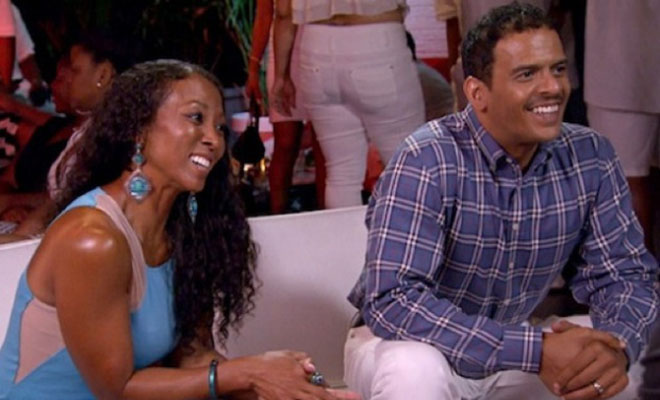 Leave it to ol' messy azz Kenya Moore to dig up some dirt on someone, but you have to give props where props are due. That girl plays her role, and she plays her role VERY well.
90's R&B star Christopher Williams (aka "The OG Chris Brown") raised more than a few eyebrows on this past Sunday night's episode of "Real Housewives of Atlanta" when he denied being married to what many people believed to be his "wife" of the past 20 years, Natalie.
"Real Housewives of Atlanta" Season 6 Episode 12 Recap: Meet Christopher Williams & His 'Wife' Natalie
And some "RHOA" viewers may think Miss Moore was being shady when she questioned Christopher and Natlie's "marriage" in the first place, but now there's video footage circulating online (thanks to Kenya, of course) backing up her allegations.
Via All Hip Hop:
The major question this week in the Real Housewives of Atlanta world was whether Christopher Williams is married or not.

If you recall, Kenya threw shade at Cynthia's friend Natalie for saying that she and Chris were married. According to Kenya, who says she knows Christopher from their work on a chitlin' circuit play, he never claimed Natalie as his wife or even girlfriend, but instead said she was a groupie.

That's stretching it because Natalie said they had been married for over 20 years. No one keeps a groupie around for that long so there has to be some type of relationship at play.

Even people that I know, who know Natalie were saying that Kenya was telling tales. However, Kenya wasn't having it with people calling her a liar so she found this video where Williams claims he isn't married and alludes to being single.
On Monday morning (the day after the episode aired), Kenya tweeted:
Don't come for me! Christopher Williams himself confirms he is not married http://t.co/g9EiTxjPMp #RHOA

— KENYA MOORE (@KenyaMoore) January 20, 2014
In the video (published in 2013), at around the 35-second mark, Christopher is asked if he's married, to which he quickly responds "No."
He also adds that he has "no comment" on relationships, but around the 4-minute mark, he begins to talk about a "real special" person in his life, whom he refers to as "loyal" (Natalie).
WATCH HERE:
Whoomp, there it is! Guess Kenya was telling the truth after-all … but you've gotta admit, she is shady/messy as hell for exposing Christopher and Natalie like that, SMH.
Be the first to receive breaking news alerts and more stories like this by subscribing to our mailing list.