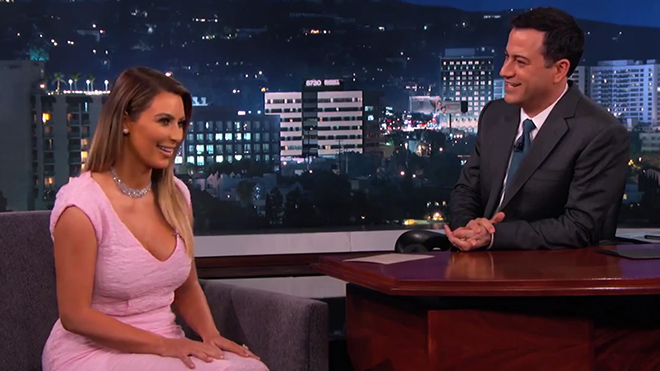 Kim Kardashian has wedding bells on her mind. The "Keeping Up With the Kardashians" star made a guest appearance on "Jimmy Kimmel Live" Thursday night (Jan 23) and spilled the beans on her upcoming wedding with rapper/producer Kanye West.
Kim told Kimmel that during a recent trip to the Palace of Versailles, many thought that she and Kanye were there picking their wedding place.
Instead, the power couple will be most likely be tying the knot in Paris this summer.
"He and I had never been there, so we just wanted a tour. And of course everyone thought we were picking that as our wedding place," Kardashian said. "We were just taking a tour. But we will be getting married this summer, hopefully in Paris." She then clarified, " When I said 'hopefully,' I didn't mean like 'hopefully getting married.' I meant 'hopefully just this summer.'"
So far, Kim says Kanye has been very helpful with helping her plan the wedding and is very passionate about it.
"I know they think or they say the guy doesn't really care or just shows up. Kanye, really cares and he's really passionate about it. It makes my job really easy and I love it he knows what he wants and I love that about him," Kim said. "We are kind of taking different roles he is taking care of the music I'll take care of the seating chart different stuff like that, so we are making it really easy on each other."
Kim also spoke on how she and Kanye recently got to spend some alone time together and left baby Northwest behind.
"We went on a vacation for New Year's and we shared a condo with my mom and we all went skiing so he was like, 'Babe, can we please just have three days to ourselves without any family members? It's too much traveling for her,' " Kim said.
WATCH PARTS 1 & 2 OF THE INTERVIEW HERE:
This wedding is going to be a sight to see! Wonder if Kris Humphries will be invited (LMAO!)
[E! News]
Be the first to receive breaking news alerts and more stories like this by subscribing to our mailing list.