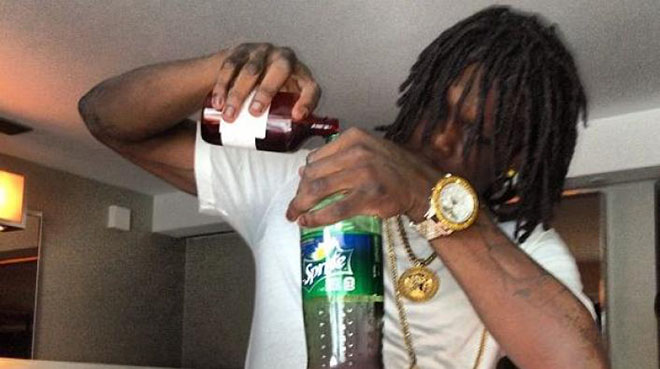 It seems that rehab may be helping Chief Keef after all.
Not only has it kept him out of trouble in recent months (other than his baby mama drama issues), but Keef has also gone on record to say that he no longer "sips lean."
Just last month, the 18-year-old rapper took to Twitter to confirm that he is no longer a lean drinker, writing, "King Keef Has no Genre Nor Language #JusGloTalk Understand Or suck my Duck Oan I don't sip lean nomo."
And now, Keef has once again taken to Twitter, this time to admit that his syrup drinking habit caused his last couple of mixtapes to suck.
Yes I hate my own last mixtapes Cuz I was leaning and mixed them myself! Thought I Was! But I'm back No worries

— AlmightySo (@ChiefKeef) January 16, 2014
Sosa even went on to tell a Twitter fan that he has stopped drinking lean so he can focus on making better music.
"@Mike__Almighty: @ChiefKeef damn you even admitted that yourself ????????????"I'm always keeping shit 300 ???? but I stopped lean ???? Time to turn up

— AlmightySo (@ChiefKeef) January 16, 2014
We don't know if Chief Keef is saying this just for the hell of it … but maybe without all the lean, we can actually understand what he's saying for once.
H/T: Vlad
Be the first to receive breaking news alerts and more stories like this by subscribing to our mailing list.