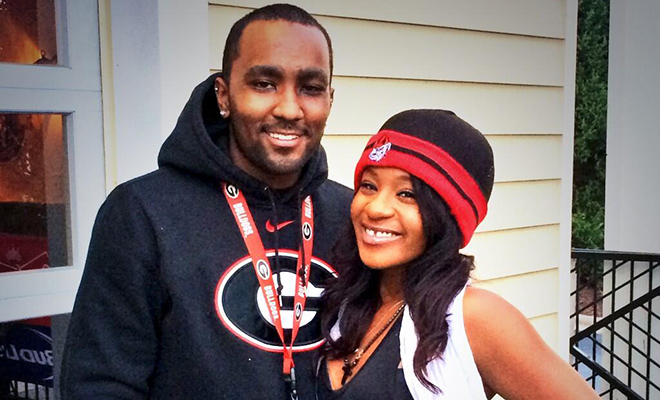 Did Bobbi Kristina Brown and her "adopted brother" Nicholas Gordon secretly get married?
That's the question on everyone's minds after the 20-year-old daughter of the late Whitney Houston took to Twitter late Thursday to share a new photo showing two hands, presumably hers and Nick's, laying on top of each other, both with wedding rings on the ring fingers.
@nickdgordon ????????????????! #HappilyMarried• SO#Inlove• if you didn't get it the first time that is..???? ??&??! ???? pic.twitter.com/AgsYCOn6Us

— Bobbi Kristina H.G. (@REALbkBrown) January 10, 2014
The new comes six months just six months after Bobbi Kristina and Nick Gordon reportedly got engaged, and nearly two years after the two were first romantically linked together.
Bobbi Kristina and Nick first made headlines when he appeared at Whitney Houston's funeral in 2012 alongside Brown and her grandmother. Gordon also appeared in a few episodes on the Houston family's reality show "The Houstons: On Our Own"
Their relationship has raised some eyebrows, as Gordon was taken in by Houston when he was 12 years old, and he and Bobbi Kristina are said to have grown up like brother and sister.
But while they did grow up together, Brown directly addressed critics on Facebook around the time she and Nick got engaged.
"Yes, me and Nick are engaged. I'm tired of hearing people say, 'Eww you're engaged to your brother' or 'If Whitney was still alive, would we be together or would she approve of this?'" she wrote.
"Let me clear up something, we aren't even real brother and sister, nor is he my adoptive brother. My mom never adopted him. In fact, mommy was the one who even said that she knew that we were going to start dating. My mom knows me better than any of you."
Mhmm. Whatever you say, girl.
Bobbi Kristina also hinted on Twitter last night that an "official" wedding is in the works that will be held sometime this year.
Don't think 4 a sec that a ceremony isn't in store this year …!? ???? they're will be a wedding & a gorgeous1at that (: #nomoredetailstho!????

— Bobbi Kristina H.G. (@REALbkBrown) January 11, 2014
Nothing is ever official until it's done under the eyes of god . @nickdgordon ???? ???????? much love !

— Bobbi Kristina H.G. (@REALbkBrown) January 11, 2014
Guess we can't do anything but congratulate those two at this point, because there's no stopping them now, unfortunately:
BIGGGG things in store guys .. I'm so excited .. ????! We bouta change the world babbbbby! ???? #bringEmOut! #Getready!xO!????

— Bobbi Kristina H.G. (@REALbkBrown) January 10, 2014
Huh huh baby @REALbkBrown we are up. Let's see trouble we will cause today

— Nick Gordon (@nickdgordon) January 10, 2014
#WhippinDaBEAMMER MyHubbybrought4us!our2nd1!????????he's a keeper????•We'll be 2gether4EVER• #JustWatch???? ??&???????? pic.twitter.com/Gq2xGls914

— Bobbi Kristina H.G. (@REALbkBrown) October 27, 2013
GoodAmAll @nickdgordon???? you are my moon, my sun, my love of my life . i'll be by your side4 ever .You are my world pic.twitter.com/vAy8hzIxkE

— Bobbi Kristina H.G. (@REALbkBrown) September 18, 2013
GoodMorningMy#GeekSquad????!@Nickdgordon?GYMTIME!????# GetYoFitnessON ????#EngagementRing????????#Sohappy????#Nowleggo! pic.twitter.com/Sd9b5foEym

— Bobbi Kristina H.G. (@REALbkBrown) September 13, 2013
@nickdgordon I am madly in love with my #EngagementRing just as much as I am with you my love. Forever&always. No ?'s pic.twitter.com/8ItWIYsZ7I

— Bobbi Kristina H.G. (@REALbkBrown) September 12, 2013