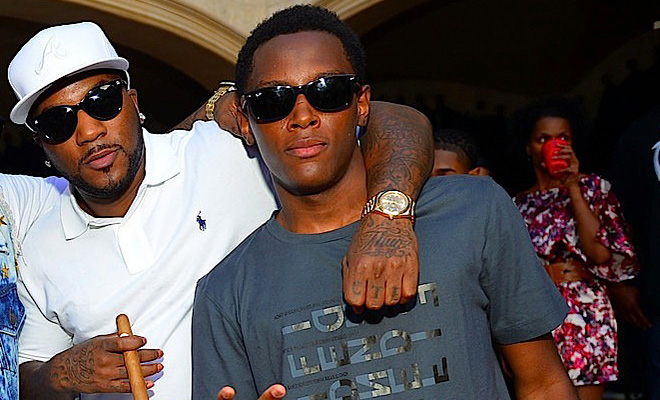 Young Jeezy is trying to clear his name after news surfaced that the 36-year-old rapper was arrested last week for battery, false imprisonment, and making terroristic threats against his 17-year-old son Jadarius during an incident that took place in 2012.
Young Jeezy Arrested for Beating the Hell Out of His Son & Threatening to Kill Him
Jeezy is now speaking up on his behalf and claims that he never brutally beat or made any threats against his son.
Instead, Jeezy says that it's his money-hungry baby mama Tenesha Dykes who's making things up in order to squander money from him.
Sources connected to Jeezy tell TMZ … the rapper and his 17-year-old son Jadarius did indeed get into a nuclear argument in Sept., 2012, but it never turned really violent.  We're told it started when Jeezy told the teenager he had turned into a punk kid with an attitude and he didn't want the kid staying at his house.

Our Jeezy sources say Jadarius became belligerent and the two starting screaming at each other.  Jeezy claims he never hit, choked, or dragged his son, but admits he shoved him to the ground when Jadarius got in his face.

As for the terroristic threats — Jeezy is accused of telling Jadarius, "I will kill you … I will put a bullet in your head right now" — the rapper claims all he said was something to the effect of, "I brought you into this world and I can take you out of it."

Our sources claim at the bottom of it all … Tenesha Dykes, whom they say is brainwashing the son against his dad and trying to squeeze every penny she can get from Jeezy.
Damn … it be like that sometimes though. We hope this all gets worked out.
Though, it is good to know Jizzle isn't one of those crazy, over-the-top, psycho parents who beat on their kids!
Be the first to receive breaking news alerts and more stories like this by subscribing to our mailing list.