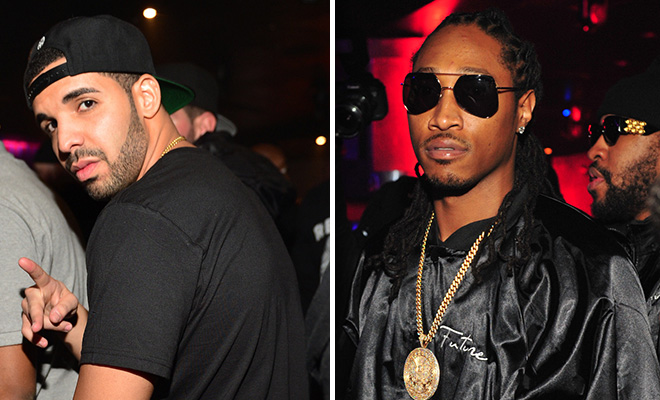 Drake and Future haven't always been the best of friends, but now their relationship seems to be growing.

Despite being on tour together, for Drake's "Would You Like A Tour?," the two rappers have had a few squabbles in the past.
First, it was Drake leaving Future out in the cold and not showing up for his "Tony Montana" video shoot, way back in 2011.
And then it was Drake temporarily kicking Future off his tour earlier this year for basically telling Billboard that his as yet unreleased album 'Honest' was way better than Drake's 'Nothing Was The Same,' or in his words, Drake's "doesn't grab you" like his will.
But now it appears that all is good in the neighborhood between the two rapper-singers.
Just a few days ago, following his tour stop in Columbus, Drizzy was out at the club and he got on the turntables previewed his verse for the remix of Future's "Shit" track.
WATCH HERE:
Columbus-area DJ Steph Floss has been bragging on the Internet all weekend about how he's the only person in the world who has access to the remix, and he's also been tweeting lines from Drake's verses.
"I hear you talkin about ya city like ya run that and I brought my tour to ya city, you my son there!"

— DJ Steph Floss (@djstephfloss) December 14, 2013
"I just think it's funny how they dangling the bait, but I'm the one that's killing n***** on the hooks though!" -Sh!t

— DJ Steph Floss (@djstephfloss) December 14, 2013
It isn't clear who Drake is firing these shots at, but it looks like we'll find out soon enough!
UPDATE: We now know who Drake is firing these shots at (Kendrick Lamar), and you can listen to the song here!
Be the first to receive breaking news alerts and more stories like this by subscribing to our mailing list.