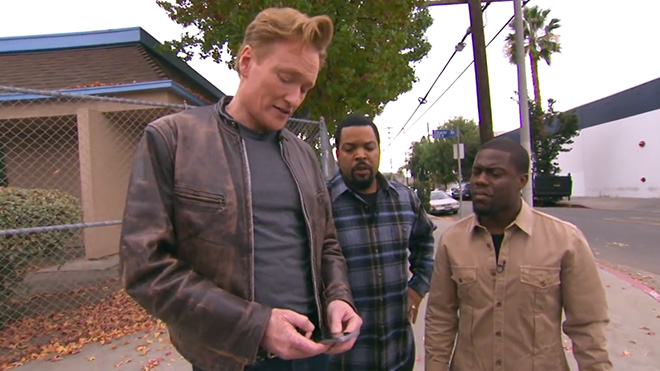 What would happen if Ice Cube, Kevin Hart and Conan O'Brien shared a "Lyft" car? Pure hilarity, is what.
Last Wednesday night on "Conan," the late-night funnyman was joined by Ice Cube and Kevin Hart as the three of them went on a quest to explore Los Angeles to score some weed and some "fowtys," with the help of the new ride-sharing app "Lyft."
Lyft, whose tagline is "your friend with a car" is a service in which non-professional drivers use their own personal vehicles to pick up customers and shuttle them around town, for a fee of course, which is all paid through a smartphone app.
Using the app, Conan chose the driver Anthony, who he trusted because of his "close-cropped" haircut. And little did Anthony know, he was in for one hell of a ride with Conan and his "2 pals."
"We need to go to the weed spot, immediately!" Ice Cube said before remarking on how long Anthony was taking to show up. Meanwhile, Kevin was worried about their safety and how it looks with three clean-cut guys look standing on a street corner: "It looks like we're selling ass!"
And all of this is before they even get in the car! From there, things just get funnier and funnier, and you really have to just watch it for yourself, if you've got about 10 minutes or so to spare. It's worth it!
WATCH THE HILARIOUS VIDEO ABOVE!
Be the first to receive breaking news alerts and more stories like this by subscribing to our mailing list.