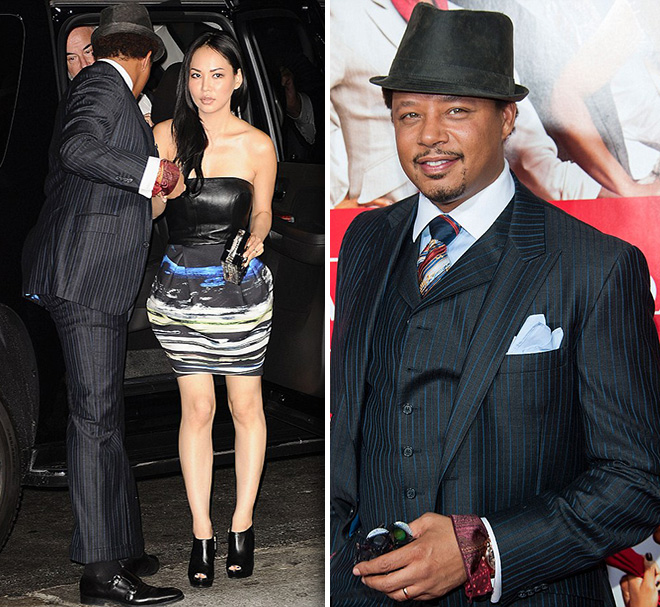 Terrence Howard has been arrested more than a few times for assaulting women, yet he still somehow finds a way to trick them into getting married to him, putting themselves directly in harm's way.
His latest victim, I mean wife, is a Canadian woman named Miranda, who oddly enough, resembles his last wife Michelle Ghent, but that's not even the most intriguing part of this story. According to sources, the now married couple had only been dating a month before they secretly tied the knot.
Howard tried his best to keep the nuptials a secret from the public, but he and his new wife raised suspicion when they both showed up on the red carpet of the "Best Man Holiday" premiere wearing gold bands on their left hands.

Though reps for the actor refuse to comment, a close source confirmed the all-of-a-sudden marriage to Radar Online and laughed it off, claiming that it was "not out of character" for Howard.
"It's another one of his outlandish moves… he only knew and/or dated her for about a month!" the anonymous source said.
Meanwhile, Terrence and Michelle Ghent (his ex-wife) have been all over the news in recent months due to their recent court proceedings in which they have been accusing each other of harassment and domestic violence.
Terrence Howard Called Himself "Satan," Threatened Suicide During Fight with Ex-Wife
"The Butler" star was accused of abusing Ghent after the two reunited for a trip in Costa Rica earlier this year. Ghent says the 44-year-old beat her after the two got into an argument.
Ghent had previously filed a restraining order against Howard in December 2011, claiming the Oscar nominee began abusing her a week after they wed in January 2010.
And in September of this year, Michelle filled yet another restraining order alleging that she feared for her life after he sent her a series of bizarre text messages, in which he threatened to kill himself and Ghent, and said he would become "Satan Himself" and "seek my vegeance upon humanity for all wrongs ever done to me."
The disturbing text continued:
"I have suffered because of my faith and will now destroy the world of mankind. You just killed the last grain of light within me. Now the darkness has begun. I hate all things because of you. The antichrist is here!"
Yikes … hope this new girl "Miranda" at least know what she's in for. That poor, poor woman…
Be the first to receive breaking news alerts and more stories like this by subscribing to our mailing list.