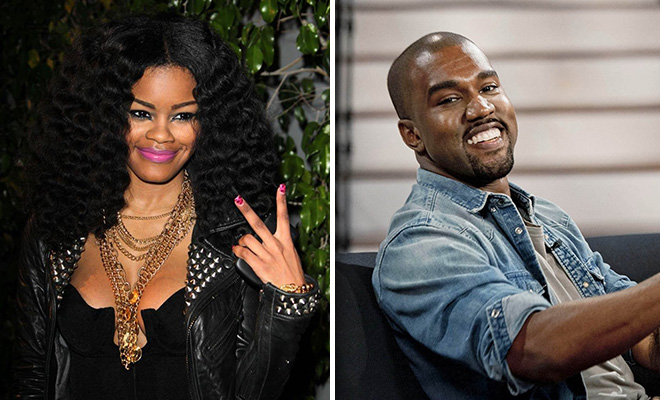 Teyana Taylor has been dropped like a bad habit.
News of the G.O.O.D. Music backup singer losing her partnership with Adidas surfaced on the web yesterday.
Apparently, Teyana's infamous (albeit hilarious) Twitter fight with Rihanna may have aided in the ultimate decision the sneaker company made to let her go.
"We have ended our relationship with Teyana Taylor and do not have any upcoming product launches with her," an Adidas Rep told Madame Noire. "Adidas partners with athletes and artists who blend well with our brand values. We evaluate our relationships with partners based on the values we hold at Adidas and we don't condone violence of any kind."
Yup, it was definitely the Twitter fight. Poor Tey-Tey.
Earlier this year, Teyana released her first pair of shoes with Adidas called the Original Harlem Good Luck Charm Adidas.
The success from her first pair of shoes opted the famous sneaker brand to do a second collaboration with Taylor that was supposedly set to debut in November on Black Friday.
But when that didn't happen, rumors began to circulate that Taylor's partnership had ended, and now that we have confirmation from Adidas themselves, it looks like Teyana's new sneakers will never see the light of the day.
In other news, Adidas has announced that they have signed a $10 million dollar deal plus royalties with Kanye West.
"For 2014, we welcome to the Adidas family one of the most influential cultural icons of this generation, Kanye West. Well known for breaking boundaries across music, film and design and partnering with our history in street wear culture and leading innovations in sport, we look forward to creating a new chapter. Details to follow."
West, who recently revealed he was no longer working with Nike because they wouldn't give him royalties, will get that and more with this deal.
So, let's get this straight. Drake partners up with Nike and Jordan, Kanye signs with Adidas, and Teyana gets left hanging like a wet towel.
It's a cold world, y'all.
Be the first to receive breaking news alerts and more stories like this by subscribing to our mailing list.