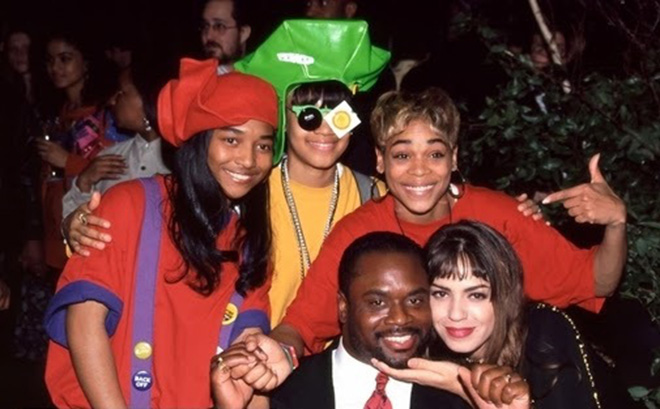 Rumors of TLC being dropped from L.A. Reid's Epic Records are NOT true, and this is coming straight from the horse's mouth. Actually, this is coming straight from all of the horse's mouths.
After the premiere of their made-for-TV VH1 movie "CrazySexyCool: The TLC Story," rumors began to float around the blogosphere that because Pebbles felt some type of way about how she was portrayed in it, she had gotten remaining TLC members Rozanda "Chilli" Thomas and Tionne "T-Boz" Watkins axed from her husband's record label.
Additionally, a TLC fansite pointed out that the group's name wasn't posted on Epic's online roster and the label's logo had been removed from the girls' site as well, so people basically ran with the assumption that TLC was no longer a part of Epic Records.
But according to L.A. Reid himself, as well as Chilli and T-Boz, those rumors are just that. RUMORS. None of it is even remotely true. In fact, everyone is cool with each other, and there's no bad blood between anyone at all.
sorry folks- @OfficialTLC have not been dropped by @Epic_Records and yes we @officialchilli and @tbozworld are friends 4 life!

— LA Reid (@LA_Reid) November 22, 2013
See that? FRIENDS 4 LIFE!
T-Boz and Chilli also took time to set the record straight after their performance with Lil Mama last Sunday night (Nov 24) at the 2013 American Music Awards.
Asked if they had been dropped from Epic Records, Chilli said, "No, we weren't. L.A. Reid set it straight. He got on Twitter."
T-Boz chimed in, saying that she believes the gossip-loving media was behind the story: "You know how the press is and one person starts it and it gets in the stratosphere and they run with it."
Chilli and T-Boz also announced to MTV back in October that they would be working with L.A. for a future album expected to be released sometime in 2014. "We're back signed with L.A. Reid at Epic, and we're bringing LaFace back! Booyah," T-Boz said.
Be the first to receive breaking news alerts and more stories like this by subscribing to our mailing list.