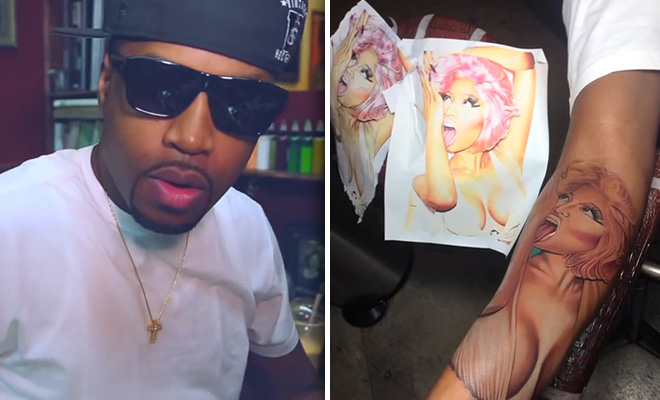 Boyfriend, fiance, assistant, BFF, "bro," purse holder, weed carrier, foot massager … no one really knows what Scaff Beezy's "official title" is when it comes to his "relationship" with Nicki Minaj.
But we do know one thing. There's no denying that boy has mad love for Nicki. Just take a look at that big ass tattoo of her face on his arm!
Scaff Beezy, aka Safaree Samuels, aka SB, aka that guy who's always with Nicki Minaj, literally everywhere she goes, even the bathroom, paid a visit to Artistic Element Tattoo studio in L.A. last Monday (Nov 25) and had a portrait of the YMCMB rapper's face inked on his arm.
HER WHOLE FACE, PEOPLE. LIKE, ALL OF IT. ON HIS ARM. WOW.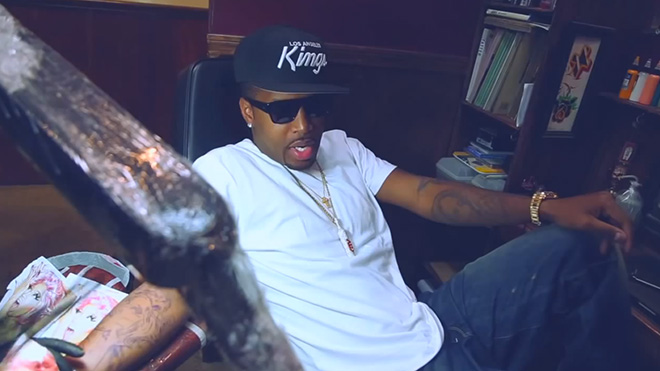 SB explained (or at least tried to explain) himself in a vlog posted on YouTube:
"A lot of people out there tattoo somebody that they don't know. Why not tattoo somebody that I know, you know? *looks at left arm* The Bob Marley? I don't know what I was thinking…I said yeah, let me get something for Jamaica."
Uhm … what?
The Nicki Minaj tattoo — which actually turned out very well, despite the creepiness of it all — took a whopping 8 hours to finish, and it's still not even 100% complete. His arm got too swollen for the tattoo artist to continue, so he'll have to come back later for another 4-5 hour session. Sounds fun.
Now, as Necole Bitchie pointed out, Nicki did buy SB a red Bentley for Christmas a couple years back to match her pink one, so this could be his way of saying "I love you too." Because nothing says "I love you" like a full color picture of someone's face on your forearm, right?
Check out the video below:
Be the first to receive breaking news alerts and more stories like this by subscribing to our mailing list.