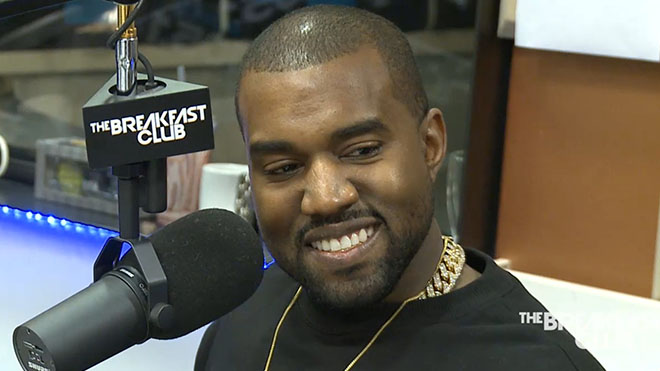 As a part of Kanye West's media rounds this week to promote his 'Yeezus' tour and album, the rapper stopped by Power 105's "The Breakfast Club," where he was intensely grilled on a number of topics by the infamous Charlamagne Tha God, while co-hosts DJ Envy and Angela Yee basically played referee.
Charlamagne has been one of Kanye's biggest critics, and with the man himself right in front of him, Charlamagne pulled back no bunches as he spent about 40 or so minutes throwing 'Ye all kinds of hardball questions and calling him out on his many contradictions, like how he goes on rants about corporations one day, then will want to work with them the next.
"To me it seems like you're such a walking contradiction because you'll denounce the corporations, but then you'll get on stage and say you need Nike and Adidas to back you. That makes no sense to me," Charlamagne pointed out.
Kanye's response:
"It ain't that I feel like a slave, we are mentally enslaved. We enslaved to brands. We are enslaved to the Benz symbol. We are enslaved to chains. A woman is enslaved to the concept of 'diamonds are a girl's best friend.' Girls in London don't even wear engagement rings, that has all been programmed into us. When we are born, we are born artists, we are born free, and then we hail down at society's perception of us. We just don't want to be embarrassed."
WATCH THE FULL 40 MIN. INTERVIEW UP TOP!
Be the first to receive breaking news alerts and more stories like this by subscribing to our mailing list.