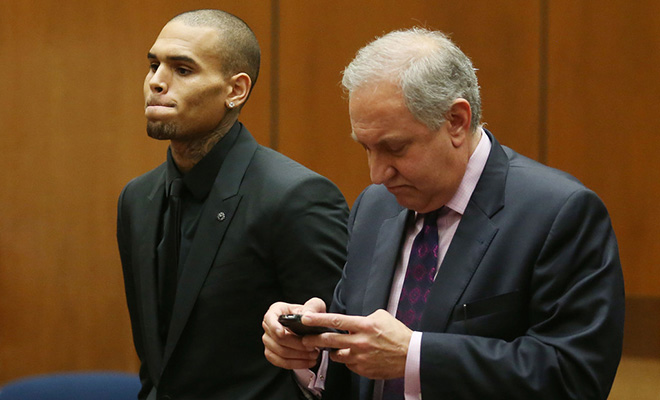 To help convince a judge to not throw his belligerent ass in jail after his latest run-in with the law, Chris Brown elected to spend up to three months in a rehab facility for anger management.
ELECTED. Meaning he chose to do this at the advice of the people around him himself.
So you would think he would use that as a personal time for reflection, meditation, and, above all, enlightening himself on the steps he needs to take to get his life together, right?
Wrong. Chris Brown is doing the exact opposite of that, actually.
We'll let TMZ take it from here (emphasis ours):
Chris Brown went into a VIOLENT RAGE while in rehab earlier this month for his anger issues … TMZ has learned … throwing objects and breaking them … and we've learned the D.A. will use this and other incidents later today in court to make the case that he belongs in jail … NOW.

We're told the rehab facility wanted him OUT after the incident … and that's why he bailed after only 2 weeks.
Chris Brown went to court today for a probation hearing (pictured above with his lawyer Mark Geragos), and this is what happened, according to TMZ (Again, emphasis ours):
The Probation Dept. notified the judge that Brown flew into yet another violent rage while he was in a Malibu rehab joint for anger management, and was thrown out of the facility after only 2 weeks. The Probation Dept. recommended live-in anger management rehab.

The judge agreed with Probation, and ordered Brown to check into a facility for 90 days, and the facility must be in L.A. County and approved by Probation.

The judge is letting Chris juggle his criminal cases and will let him fly to D.C. for court hearings on his criminal assault case.

Brown must also submit to drug testing at the rehab facility. He must also take any prescriptions recommended by the rehab place.

The judge also wants a report on the D.C. incident … something that could result in Chris getting his probation yanked in the Rihanna case … which could then result in prison time.
So wait, let's get this straight. The solution to him flying into a "VIOLENT RAGE" and "breaking" things with "objects" while at anger management therapy is MORE anger management therapy?
But instead, this time he will LIVE there? With OTHER people? Who can possibly be HARMED as a result of one of those aggressive fits of his?
Makes sense. This should definitely end well. Right?

Do you think Chris Brown belongs in jail?
Be the first to receive breaking news alerts and more stories like this by subscribing to our mailing list.