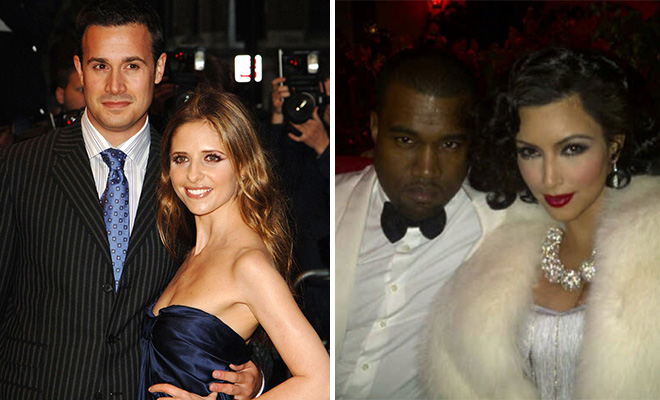 Sarah Michelle Gellar, aka Buffy The Vampire Slayer, got the hell out of her neighborhood once Kim Kardashian and Kanye West moved in.
Sarah is way too normal to want to deal with those two and all of the excessive drama and paparazzi they bring. So she and her fellow actor husband Freddie Prinze Jr. quickly unloaded the property upon news of the Kimye arrival.
Or at least that's what the rumors say.
More from the National Enquirer:
"The moment that Sarah and Freddie heard Kim and Kanye bought a home in their Bel-Air neighborhood, they put their house up for sale," said a source. "They're now living in the more laid-back Mandeville Canyon area of Los Angeles."

The "Crazy Ones" star, 36, and 37-year-old Freddie – parents of daughter Charlotte, 4, and year-old son Rocky – had lived in a seven-bedroom, seven-bathroom home in the secluded enclave since 2001.

But early this year, newly engaged reality TV sexpot Kim and rapper Kanye – par­ents of 4-month-old daughter North – plunked down $10.75 million for a nearby property. "Kimye" quickly began a huge reno­vation project, gutting the existing home and expanding its already palatial 10,000 square feet to a massive 14,000.

"A collective groan went up in the neighborhood over fears that Kim and Kanye were turning their house into a tacky nouveau riche McMansion," said the source. "The remodeling alone is a huge headache. Tractors and construction crews start making a racket at the crack of dawn, and now photographers are constantly lurking around.

"Sarah was cring­ing at the thought of reality TV cam­eras intruding on their peace and quiet, not to men­tion the prospects of Kanye terror­izing everyone with his angry rants. "She also figured that the presence of Kim and Kanye would devalue surrounding properties.

"Rather than deal with the headaches, Sarah suggested to Freddie that they move."

The happy family has since settled into a $6.1 million six-bedroom, five-bath home closer to the beach. Now that they're safely away from Kim and Kanye, the only problem for Sarah and "Scooby-Doo" star Freddie is that she's so busy with her "Crazy Ones" hit sitcom. He wishes she could spend more time with him and the kids.
First world problems, y'all.
Be the first to receive breaking news alerts and more stories like this by subscribing to our mailing list.