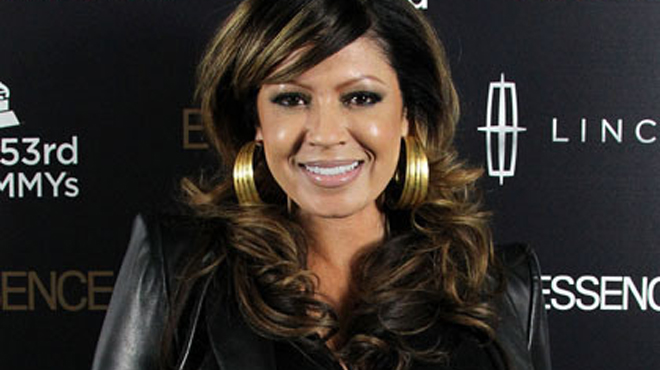 Don't mess with this light-skinned diva.
It's no secret that in CrazySexyCool, the TLC movie, Pebbles, L.A. Reid's ex-wife, came off more like Cruella De Vil than the Fairy Godmother from Cinderella.
While T-Boz and Chilli have made their rounds on various TV and radio shows, Pebbles has remained silent. Apparently it's because she had a time processing what she should do next.
Her epiphany: She's gonna sue. Interestingly, in her statement, she states that she'll be going after VH1. But didn't VH1 just work from the stories that T-Boz and Chilli fed them? Is she going to sue them separately or will it just be VH1?
Here's Pebbles' statement via NecoleBitchie.com below:
First I want to thank all of you for the well wishes and prayers. I apologize for the delay in responding to the movie, but I wanted to gather my thoughts. I have always been a private person and this unprovoked attack has been extremely upsetting to me and my family. I have needed time to spend with my family and for personal reflection.

The movie contains many false and defamatory statements and scenes about me. Please know that I have never cheated or mislead anyone. I will defend my reputation, accomplishments, and character. My attorney is in the process of demanding a retraction of the false and defamatory statements and scenes about me from VH1.

My silence has empowered individuals looking for a payday at my expense. I have held my peace for 20 years and it's time the truth comes out. I will be sharing my story in the appropriate venue at the appropriate time. With all my heart I thank you for your faithful support.

I am extremely proud of the success and massive accomplishments of TLC—the group I discovered, managed, and mentored. I helped push open doors for TLC and other women in this male dominated industry. My sacrifices ultimately opened the door for not only a new wave of female performers in this industry but also a new generation of female executives. That backdrop makes the movie extremely personally upsetting to me.
She sounds like Ike Turner, who used to go around claiming his abuse of Tina Turner wasn't that bad.
Pebbles, the numbers weren't adding up so obviously something in the milk wasn't clean with them contracts.
Be the first to receive breaking news alerts and more stories like this by subscribing to our mailing list.