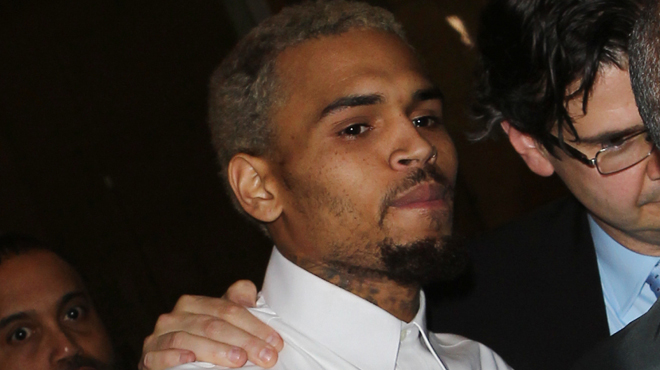 Praise Jesus. The good Lord doesn't always come when we expect him, but he always shows up just in the nick of time.
After Chris Brown went all ninja turtle on some dude in Washington D.C. and spent the weekend in jail, Brown and his team FINALLY realized he might have an anger management problem.
You'd think this was self-evident after he assaulted his then-girlfriend Rihanna on Grammy night in 2009, busted up the "Good Morning America" studios by throwing chairs around the room, scrapping with Drake in the club and jumping Frank Ocean in the studio, but hey, at least they finally got the hint.
A spokesperson for Mr. Not-So-Mello Yello confirmed the stint in "rehab" to E! News:
"Chris Brown has elected to enter a rehab facility. His goal is to gain focus and insight into his past and recent behavior, enabling him to continue the pursuit of his life and his career from a healthier vantage point."
Anyone with a lick of common sense could see that intense therapy was in order for Chris Breezy after his public meltdown following the Rihanna assault. His sense of persecution and entitlement overwhelmed him and he refused to hold himself accountable for his behavior.
Of course he read numerous apologies that claimed he held himself accountable, but his petulant behavior proved that any contrition on his part was not the result of an introspective reflection on his emotional well-being but was an expression of frustration with having to apologize in the first place.
But all of his fans and celebrity friends were too busy blaming the media for "picking on Chris" to speak truth to power. They wanted to protect him by denying the what was so plain to see: Chris Brown is a hurt boy who has needed help for a long, long time.
Friends and family have quickly joined Chris in his time of need. His mother (and Trey Songz for some reason…) swooped down on the courthouse in DC and once he was released and shipped back to L.A., he ran straight into the arms of his on-again, off-again girlfriend Karrueche Tran.
Ain't nothin' sweeter to Chris than that rice cake. Karrueche got what she wanted after all.
Be the first to receive breaking news alerts and more stories like this by subscribing to our mailing list.