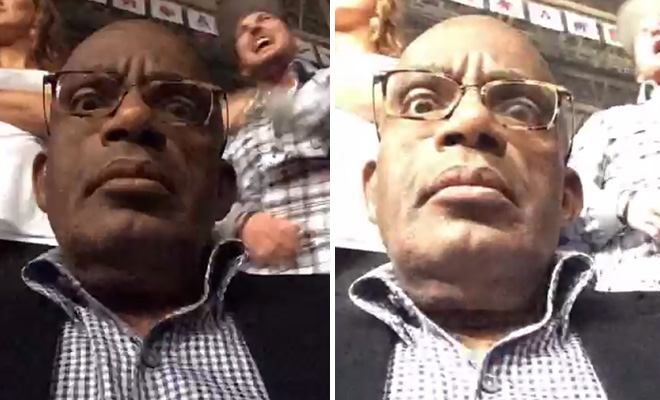 Noted weatherman and world-famous sharter Al Roker was in the audience at Drake's "Would You Like A Tour?" concert in Hartford, Connecticut Saturday night, and according to this hilarious Vine, posted to his own account, he is "officially #TooOld" for Drake concerts.
According to Today.com, Roker took his teenage daughter to the concert, where he was surrounded by bright, flashing lights and a bunch of young people waving their hands back-and-forth to loud music. And judging by his priceless facial expression in the clip, he was far from impressed at what was going on around him.
Another thing possibly pissing Al off was that some college-aged guys in the crowd were trying to hit on his 14-year-old daughter.
"I'm sitting there and I've got my daughter and her friend and they're 14 years old. Then there's some college guys…they start trying to hit on my daughter. I'm like, 'Yo, dude! Hello! Hello! Hello! I will kill you. I will drop you right here," Roker told his "Today" show cohosts Willie Geist and Natalie Morales Monday morning.
"She's 14! Do you wanna die? Is the last thing you want to see is Drake? Because there will be nothing else after that," he said, recalling what he told the men.
Be the first to receive breaking news alerts and more stories like this by subscribing to our mailing list.