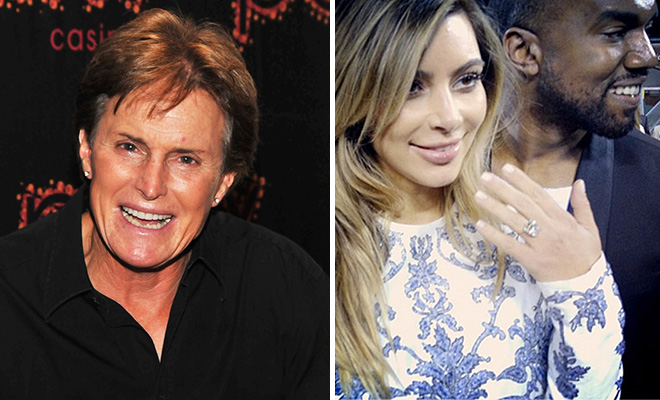 In what shouldn't be a surprise to anyone even vaguely familiar with Kardashian-focused programming, Bruce Jenner did not know Kim Kardashian was engaged until after it happened.
In fact, he wasn't even invited to AT&T Park to watch Kanye West propose to Kim.
"Family sources," aka Kris Jenner, told TMZ that Bruce and Kanye never had a "real conversation."
Maybe that's why Kanye asked Kris for Kim's hand in marriage and not Bruce. There are a couple of other possible reasons why, though.
The first being that Bruce was less than thrilled that Kim hopped into another relationship so quickly after her marriage with Kris Humphries abruptly ended. You see, Bruce Bruce peeps game, and the Kardashians don't seem to love that.
Also, Bruce and Kris have publicly broken up so maybe it would've been awkward for him to be there.
Whatever the case, Kim's first call after saying yes to the proposal was to Bruce. Kim considers Bruce to be her dad and she wanted to let her pappy know what was going on. That was sweet of Kim.
And Bruce, don't even trip. You're almost free, homie. Be strong.
Be the first to receive breaking news alerts and more stories like this by subscribing to our mailing list.