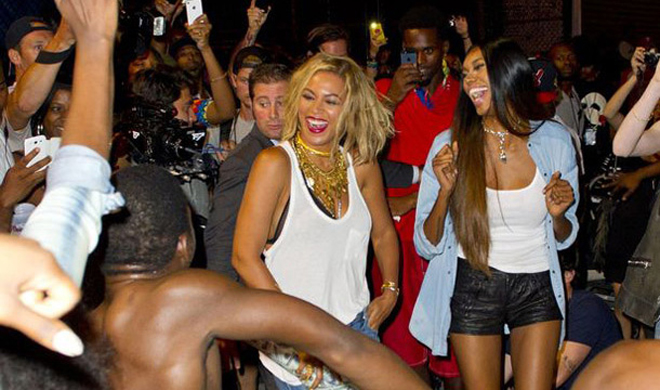 There have been so many Beyoncé music video shoot sightings, it's hard to keep count.
A couple of months ago, she was out in Coney Island reportedly shooting footage for a new video for her next project. The same was said of her and Jay Z's jaunt to Florida, and very recently, she was reportedly at a skating rink in Houston shooting a video for what was described as mid-tempo, very feel good music. There has been talk of a single called "XO!" but as y'all know, we ain't heard a damn thing yet.
However, when Beyoncé is ready to roll out new music, everything will be in order.
Not the greatest source, but since I'm thirsty, I'm going to share what The Sun is saying:
"Beyoncé is shooting a music video for every track on her new album."
"The record has been delayed, so she wants to make a big splash when it eventually comes out. She wants to be in the UK with baby daughter Blue Ivy as Jay Z tours, so this was a good chance to shoot a video in the UK. It's an amazing location for a music video."
I choose to believe this because I want it to be true. That and it also seems very plausible given she's been spotted all over the globe with a camera crew and new tunes blasting. Oh, come on, MOTHA. Give us some new music already.
Be the first to receive breaking news alerts and more stories like this by subscribing to our mailing list.