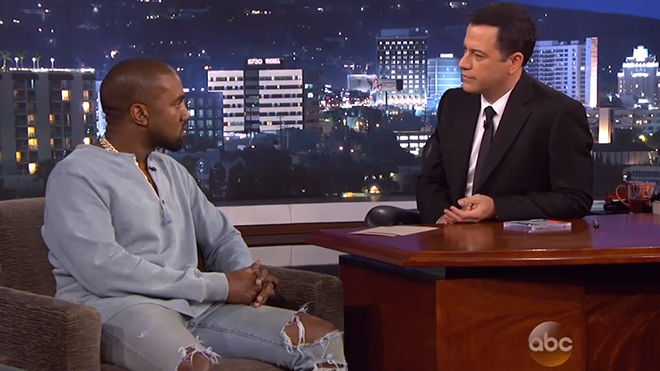 Last night, Kanye West appeared on Jimmy Kimmel Live! and ranted for a very long time.
He had such legit criticism about the ways in which people treat celebrities, plus the difficulties he, and any other music artist for the matter, faces in trying to branch out into industry's beyond music.
Then of course, he presented his trademark delusions of grandeurs, which in some cases overshadowed some of arguments he was making. In other words, your typical Kanye West interview.
The interview kicked off with a discussion of the now infamous sketch that sent Kanye into a Twitter rant aimed directly at Kimmel.
Ever so nice, Kimmel pacified Kanye to a degree, allowing him to feel how he wanted about the sketch without any real pushback. Seriously, the sketch wasn't even that funny, but it was even less offensive.
Nonetheless, Kanye acknowledged some of the humor in it, but did dismiss any suggestion that his Twitter tirade was a publicity stunt. As he explained, "I've never done a publicity stunt in my life… I don't follow rules of normal celebrity."
At one point, Kimmel half-joked, "I don't know if you know this: a lot of people think you're a jerk."
One takeaway from the interview was Kanye's declaration that based on the changing dynamics of "celebrity," there's no reason why the mother of his child doesn't deserve a certain recognition. On that, Kanye shouted, "There's no way a Kim Kardashian shouldn't have a star on the walk of fame!"
Insert Whitney Houston's "Hell to the nawl" soundbite here.
WATCH THE FULL INTERVIEW (COURTESY OF YARDIE) AT THE TOP!
Be the first to receive breaking news alerts and more stories like this by subscribing to our mailing list.