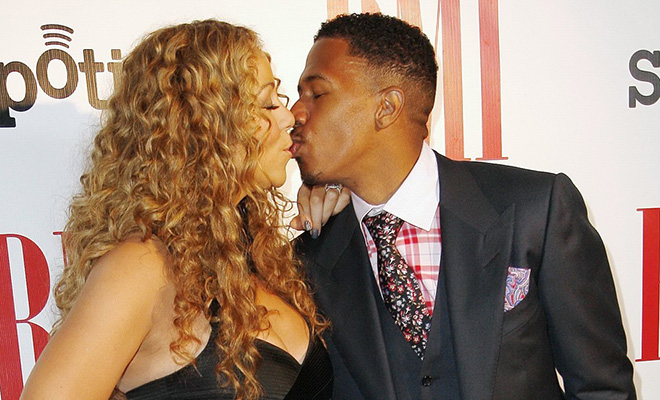 Mariah Carey helped celebrate her wedding anniversary to Nick Cannon by baring her breasts to him via the Twitter:
Happy Birthday to my Hubby @NickCannon…"my baby I'm waiting on youuuu"hahaha! KKLB! GHL!!!! Mwah !!!!!???? pic.twitter.com/y2lHWCo6A4

— Mariah Carey (@MariahCarey) October 8, 2013
I didn't get it initially, but then I remembered that we're talking about Mariah Carey here and this is what Mariah Carey does.
However, some messy folks on living along the tabloid side of life are claiming doth protest too much. As in, Mariah and Nick are cheating on each other and are heading for a break up.
I don't believe that in the least. Hell, I imagine those two will outlast most celebrity couples.
That said, I'm sure this helps keep Mariah in the headlines. And you know she is still working on new music, darling, so maybe this helps? Wait, no. The answer is no.
Whatever, the rumor is out there.
On Oct. 8, MARIAH CAREY hit the Internet to wish her husband NICK CANNON a happy 33rd birthday, tweeting a sexy close-up photo of her bra-busting boobs with the message, "I'm waiting on youuuu."

Oddly enough, that missive came after The ENQUIRER contacted their reps concerning our story about the celebrity couple's marriage hitting a rough patch.

We offered them a chance to comment on rumors that BOTH of the stars have been cheating, setting up a potential divorce battle over Mariah's $500 million fortune. Mariah's rep denied the claims, and then Mariah fired off her lovey-dovey tweet. Coincidence? You be the judge!

In a bombshell expose, The ENQUIRER reveals that all is NOT as rosy as Mariah and Nick would want you to believe. In fact, we have evidence to prove that the 43-year-old songbird has not been wearing her wedding ring recently while getting cozy with some young hunks in the music business.

"All this cavorting around with handsome men has Nick seeing red," said a source. "He's about at the end of his rope with Mariah."

Meanwhile, insiders say that Mariah has always been worried about her much younger husband's wandering eye. And she flipped out when she surprised Nick, 33, on the set of his MTV show and found him flirting with a pretty contestant.
Uh, she was acting, you fool. See, that is proof right there that Mariah is a better actress than you all give her credit for.
Be the first to receive breaking news alerts and more stories like this by subscribing to our mailing list.