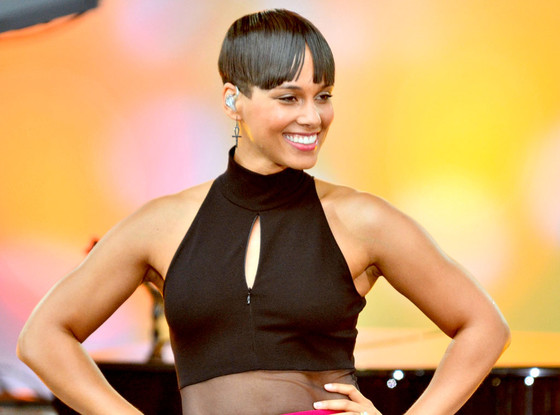 While promoting a new passion project, the independent drama The Inevitable Defeat of Mister and Pete — starring Jennifer Hudson, Jordin Sparks, Anthony Mackie, and Jeffrey Wright — Alicia Keys was asked about extraterrestrial life and revealed that if she could, she'd hang out with ET.
Q: Do you believe that aliens exist?

AK: Yeah, I do [laughs].

Q: Do you think they'll visit earth?

AK: I think they're here now [laughing].

Q: Living among us?

AK: Yeah!

Q: You ever meet anyone you think is an alien?

AK: Yeah, I've met some serious aliens in my life, for sure [laughs]. I'm sure you've seen a UFO. Haven't all of us seen something flying in the sky, and it's at some random time of night that doesn't make sense, and it's not the shape of a plane?

Q: If an alien wanted to take you to space, would you go?

AK: I don't know if I'd go with an alien to space. I would have to feel the alien's vibe. I'm a vibe person. If it was ET, I may go [laughs].
She handled this well. She shared her suspicions and beliefs and injected a little humor with it, which helps avoid people trying to put her on the crazy train. Well done, Alicia. Well done.
Personally, I think it's selfish and outright silly to think we're the only species of our kind in the ever-expanding universe. But you know, I probably wouldn't go anywhere with E.T. Riding public transit in New York City is strange enough.
Be the first to receive breaking news alerts and more stories like this by subscribing to our mailing list.