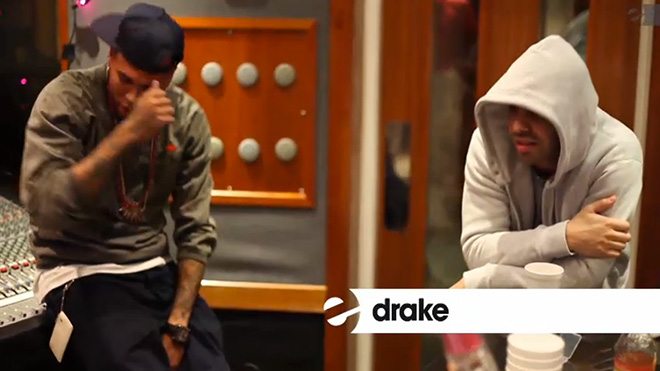 Has hell frozen over? Is it the twelfth of never? Are pigs flying? A BLUE MOON MUST BE OUTSIDE.
It looks like Chris Brown and Drake really did make up and hug it out over drinks backstage at the iHeartRadio music festival last month.
Chris posted a video (WATCH ABOVE!) on his website of himself and Drake, and other artists, smiling and laughing in a recording studio, hinting that the two could be working on new music together.
But don't get too excited, Drizzy and Breezy fans. After sharing the video on his official Facebook page last night, Chris mysteriously removed the link this morning.
It turns out the clip is an old one, but we're sure there's a good reason Chris shared it in the first place.
Drake and Chris Brown have been at odds for some time now (ever since they found out they were banging the same chick — Rihanna), throwing shots at each other in interviews and on records, but a few weeks back at the iHeartRadio Music Festival in Las Vegas, the two reportedly hugged out their differences and talked about working on music together in the future.
"Drake came with his whole crew, and watched Chris' entire set," A source told Page Six. "They were backstage hugging and drinking."
Be the first to receive breaking news alerts and more stories like this by subscribing to our mailing list.