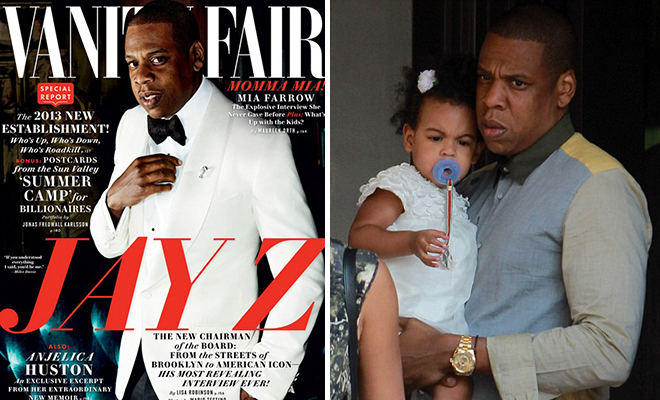 In what's being billed as his "most revealing interview" ever, Jay Z opens up about how he courted Beyoncé and what he makes of the stupid conspiracy that she faked her pregnancy with Vanity Fair.
He also opens up about Blue Ivy Carter, particularly the joy he gets knowing that his baby girl enjoys his music as much as he enjoys mommy's. Insert lots of "awws" here.
Peep the excerpts (and the full cover) below: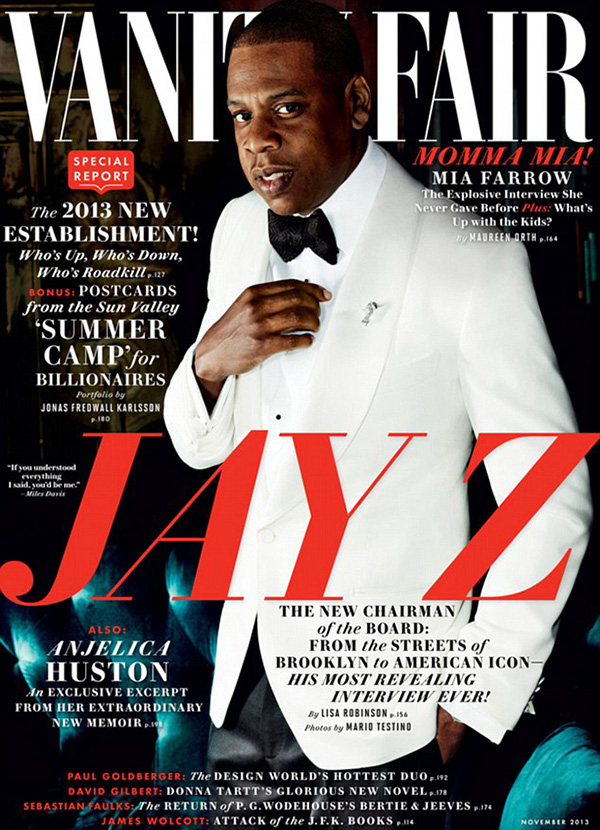 On Blue Ivy loving Magna Carter Holy Grail:
"She does like her mother's music — she watches on the computer every night. But my album came out and I don't know if Blue ever heard any of my music prior to this album — she's only 18 months old and I don't play my music around the house. But this album was new, so we played it. And she loves all the songs. She plays a song and she goes, 'More, Daddy, more . . . Daddy song.' She's my biggest fan. If no one bought the Magna Carta (album), the fact that she loves it so much, it gives me the greatest joy. And that's not like a cliche. I'm really serious. Just to see her — 'Daddy song, more, Daddy.' She's genuine, she's honest, because she doesn't know it makes me happy. She just wants to hear it."
On whether he had to pursue Beyoncé:
Jay Z reveals that he and Beyoncé "were just beginning to try to date each other" when they were both featured on the cover of Vanity Fair's 2001 Music Issue. "Well, you know, you've got to try first," he explains. "You got to dazzle . . . wine and dine."
Would she have dated him if he weren't Jay Z:
"If I'm as cool as I am, yes. But she's a charming southern girl, you know, she's not impressed. But I would have definitely had to be this cool."
On how Beyoncé has changed since they've gotten married:
She's gangsta now.
On rumors of a fake pregnancy:
"It's just so stupid. You know, I felt dismissive about it, but you've got to feel for her. I mean, we've got a really charmed life, so how can we complain? But when you think about it, we're still human beings. And even in hip-hop, all the blogs — they had a field day with it. I'm like, We come from you guys, we represent you guys. Why are you perpetuating this? Why are you adding fuel to this ridiculous rumor?""
On their attempt to trademark Blue Ivy's name:
"People wanted to make products based on our child's name and you don't want anybody trying to benefit off your baby's name. It wasn't for us to do anything; as you see, we haven't done anything."