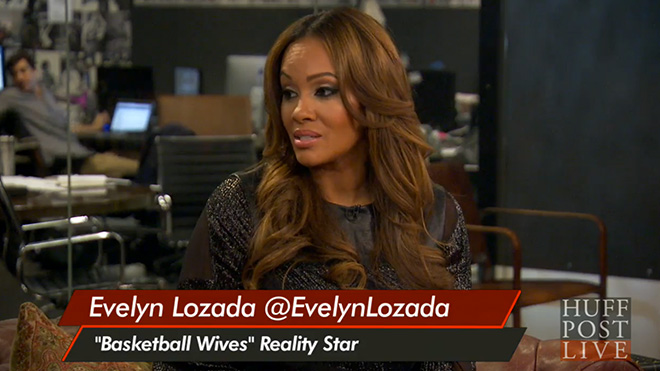 I've made many a slick comment about Evelyn Lozada in the past — and I was usually right, don't trip — but I have to admit that she has effectively won.
She's the most well-known cast member of Basketball Wives, and even better, seems to know when to leave a sinking ship. Speaking with HuffPost Live, the reality star says she's essentially done with the show.
Lady Lozada explained: "As far as future seasons, I signed on to do 5 seasons. And this is our fifth. I don't really see me doing a sixth season." She did note, "I'm open to doing a spinoff, but just not with a cast of women…"
As to why she feels this way: "I'm in a different space. I have so much other things going on. I had my own show before, unfortunately it was cancelled due to the incident. But I know I can carry my own show. Pretty much carried this one. So I feel like, we'll see."
So either she'll leave or she'll be offered a huge raise that'll get her to stay for at least one more season while they look for a replacement. Evelyn also discussed her on-air spat with Tami, and again, proved why she won.
Tami is out here still clucking and bucking on TV while Evelyn is serving you poised, evolved woman (looking for new TV opportunities). Take note, reality stars. This is how you play the game.
Catch the full 15-min. interview below:
Be the first to receive breaking news alerts and more stories like this by subscribing to our mailing list.