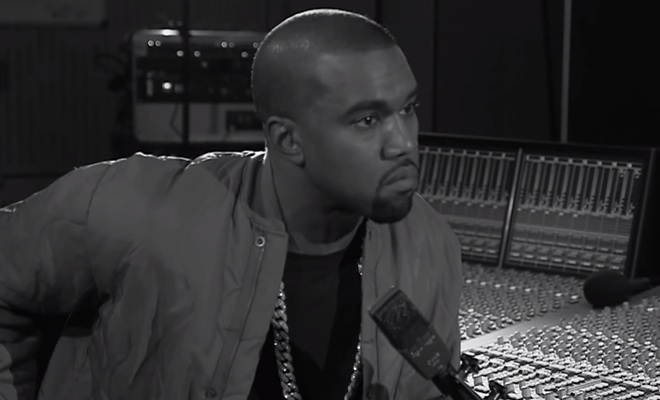 He may be occasionally damning materialism and corporatism, but Kanye West is still acting like a diva is a definition of a hustler when it comes it his demands.
The rapper, who recently stopped by the BBC's Later with Jools Holland, irked the hell out of BBC staff members with his antics. This includes rebuilding the studio set to his demands before he hit the stage to perform.
He also wanted his dressing to be replaced with the color white, including the walls, flowers, and furniture. On top of that, he asked the BBC employees that his carpet be ironed because it was too bumpy.
A source told The Sun newspaper: "Everybody knew Kanye's reputation for being a handful, but nobody had heard of a request for a carpet to be ironed before. His entourage took over the studio, even though plenty of other stars were present. Luckily once he got to the performance he was very quiet and unassuming."
I would say he'd stop with age, but there's Jennifer Lopez to shoot down that fantasy.
Meanwhile, in his interview with BBC Radio 1's Zane Lowe, Kanye West sounds…a lot like Kanye West.
Excerpts by way of Miss Info:
Kanye on his current role in music and culture:
"I'm not trying to regurgitate myself. I showed people that I understand how to make perfect, you know [My Twisted] Dark Fantasy could be considered to be perfect. I know how to make perfect, but that's not what I'm here to do. I'm here to crack the pavement and make new grounds sonically, and society, culturally."
Kanye on the fashion industry, and struggles he's faced:
"[Me and Virgil Abloh] brought the leather jogging pants six years ago to Fendi and they said no. How many motherf*ckers you done seen with the leather jogging pants? So when I see Hedi Slimaine and it's all like, ok, this is my take on the world. Yeah, he got some $5,000 jeans in there, there's some good sh*t here and there. But we culture. Rap is the new Rock N Roll. We the rockstars. IT'S BEEN LIKE THAT FOR A MINUTE HEDI SLIMAINE, IT'S BEEN LIKE THAT FOR A MINUTE. We the new rockstars and I'm the biggest of all of them."
And here's the video footage:
Be the first to receive breaking news alerts and more stories like this by subscribing to our mailing list.