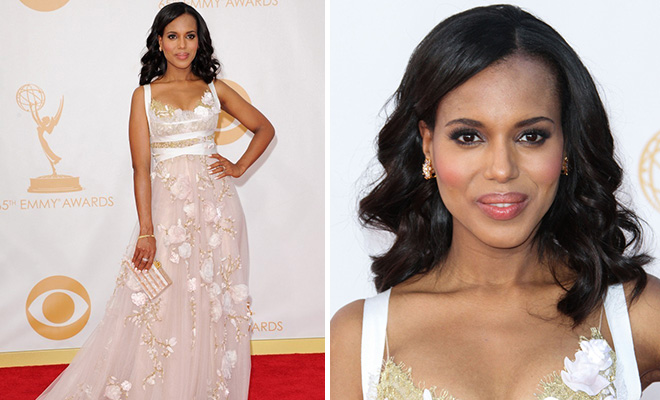 Sunday night's 65th Primetime Emmy Awards were filled with a ton of unexpected wins. There were so many upsets that host Neil Patrick Harris joked, "This just in: No one in America is winning their office Emmys pool."
But it was the shock in the Best Actress in a Drama category particularly that caused a bit of a stir.
Kerry Washington was favored to take home the award for her portrayal of crisis management expert Olivia Pope on the sultry series, yet the actress lost out to "Homeland" star Claire Danes, who took home the award last year.
Many took to Twitter to express their anger over the fact that Washington was "snubbed." Perhaps this is mainly because she would have been the first black actress EVER to take home the award in the category.
In fat, she's actually the first black actress to be nominated for the award in 18 years. And if that's not unsettling enough, only nine black women have been nominated for the award in the entire 65 year run of the Emmys.
Fans of the actress shouldn't be too upset though. Washington will have plenty more opportunities to take home the award.
Created by Shonda Rimes, "Scandal" is one of the biggest shows on TV and chances are it'll run for quite some time. Let's not forget Rimes' other series "Grey's Anatomy" is entering its tenth season.
Besides, as much as we love Washington, Danes' portrayal as bi-polar CIA agent Carrie Mathison makes for some of the best acting on TV, period. Few could have stood a chance against her.
Hopefully, the fact that there are so few black nominees calls attention to the absence of actors of color in the media overall.
Be the first to receive breaking news alerts and more stories like this by subscribing to our mailing list.