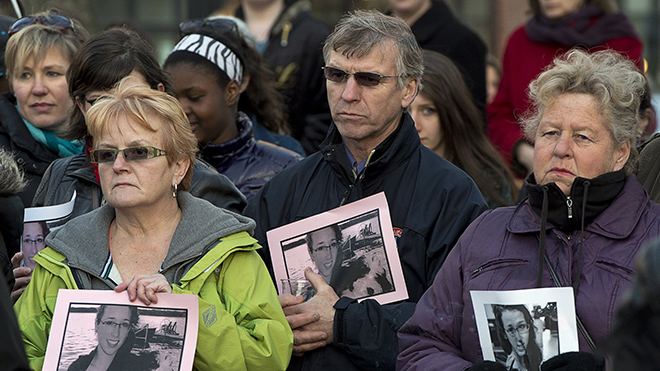 The horrific story of Rehtaeh Parsons, a 17-year-old Nova Scotia girl who was allegedly raped by four teen boys and later committed suicide, just got even more disturbing.
According to The Cut, a Canadian dating website used Parson's pictures in a Facebook ad with the caption "Find Love in Canada!" And if that doesn't tear your soul to shreds, get this: the girl's father found out about it via Twitter posts by Andrew Ennals.
After the Toronto-based Ennals called attention to the appalling advertisement, the girl's father Glen Canning addressed the issue in a blog post titled "Possibly the Worst Facebook Ad Ever."
Perhaps it's not the worst ad ever but certainly it's the worst ad I will ever see. It's bad enough my daughter Rehtaeh died following months of torment and that her sexual assault was immortalized with a photograph, but to see an ad on Facebook using her image is beyond words. What a sickening thing to do! … There she was, smiling, and being used yet again.

At first I thought it could be a simple mistake but what would the chances of that be, given two images were used? Once maybe, twice has to be intentional. I quickly thought of the marketing some pop stars do before they release a new song and how it's believed even bad press is good press — so do something outrageous. Would someone do something like this for hits on a web site? Sure they would. It happens all the time.
The images are reportedly the same as the ones her family distributed during vigils following her daughter's untimely demise.

The ad, which was for a site called Lonechat.com, has been condemned by a rep for Facebook.
"This is an extremely unfortunate example of an advertiser scraping an image from the internet and using it in their ad campaign," the spokesperson said. "This is a gross violation of our ad policies and we have removed the ad and permanently deleted the advertiser's account. We apologize for any harm this caused."
As of Wednesday afternoon, the dating site is no longer online.
In 2011, Rehtaeh Parsons was reportedly gang raped at a party after she had been drinking.
Photos were taken of the unsettling incident and led to her being cyber bullied. Police concluded that the case was a "he said she said" and took no legal action against the teens who she claimed sexually assaulted her.
The bullying didn't let up even after the girl and her family moved and in April of this year, Rehtaeh took her own life.
Be the first to receive breaking news alerts and more stories like this by subscribing to our mailing list.