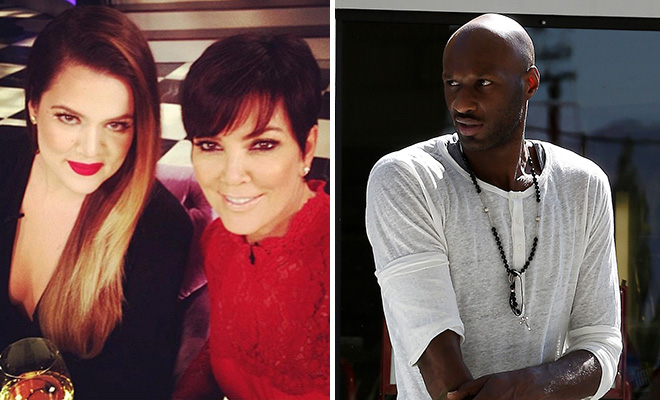 Kris Jenner isn't known for staying out of her daughters' personal or career decisions, so it's no surprise that she's said to be intervening with Khloe Kardashian's relationship with Lamar Odom.
Radar Online is reporting that as the couple continues to face challenges, Jenner is pushing the 29-year-old to seek a divorce.
"At Kris' insistence, Khloe did meet with a divorce lawyer…it was something she was forced into doing by her mom. Kris was very heavy handed and said Khloe had a responsibility to her sisters, Kim and Kourtney and the Kardashian brand to distance herself from Lamar," a source told the site.
But Kardashian is reportedly still determined to make her three year marriage work.
"It's all about the bottom line with Kris, and Khloe could care less about that. She is still holding out hope that her marriage to Lamar can be saved."
Sadly, Radar alleges that the "Keeping Up with the Kardashians" star has a confidence issue that is preventing her from pulling the plug on the relationship, despite Odom's rumored infidelity and battle with drug abuse.
"Khloe's entire self-worth and identity is wrapped up in her marriage and relationship to Lamar. Remember, four years ago, before Khloe married Lamar, she was just sort of fledgling. Kourtney was on her way to having her first baby, and Kim was dating Reggie Bush. Khloe was living with Kourtney in a townhouse, and her life was just lumped into her sisters'," the source claimed.
The relationship is apparently a major way that Kardashain has distanced herself from the Kardshian brand.
"So when she met and married Lamar, it was a huge change for her. It was a chance for Khloe to distance herself from the Kardashian name. All of a sudden, Khloe was getting tons of attention from the media, and she was very popular with Lamar's teammates' wives. She had this huge mansion, a wardrobe to die for, and the man of her dreams. It was everything her other two sister's didn't have."
Be the first to receive breaking news alerts and more stories like this by subscribing to our mailing list.