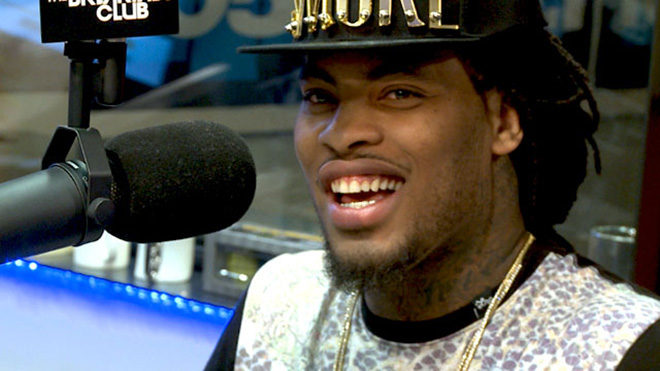 Everyone has had something to say about Gucci Mane acting a cot damn fool on Twitter last week and then almost getting into a fight at the mall in Atlanta over the weekend, but what does his now former BFF Waka Flocka Flame have to say about Guwop's recent antics?
"Gucci lost his noodles, man" Waka Flocka said in an interview Monday with Power 105's Breakfast Club. "People just think he's gangster but he really needs medical attention. That guy lost his noodles. Nah, I ain't concerned, I don't care nothin' about him. We ain't never gonna be friends, ever. As long as the Earth green, it's over…Desperate people do desperate things."
Waka said he thinks Gucci's beef with him comes from a place of jealousy.
"When I started going on tours, when I started buying different cars. I'm not leasing nothing. I start buying different jewelry. [Gucci's] conversation changes with me now," said Waka. "You can't lie to me no more, its facts. I guess that crawls under people's skin. When I come around I get a little different attention than [him]. I be seeing that messes with his ego. But, I didn't think he was gone go to that level, you know, cyberspace."
The rowdy rapper also warned that there would be some repercussions the next time he runs into Gucci in person.
"I don't care how crazy he doing, I don't care if he jump off the roof; if I catch him, it's going digital," he said. "I don't want to kill him or nothing, I just want to slap him a couple times. You know, like a little brother. A little big brother."
Waka also put Gucci's street cred into question, putting him on blast and calling him an "accidental murderer," in relation to a 2005 incident in which Gucci shot and killed a man who had broke into his home.
Gucci claimed self-defense in the case and got the murder charges dropped, due to "lack of evidence," and Waka says he doesn't deserve any props for "accidentally" killing someone.
"He's an accidental murderer, man. He killed somebody like 20 feet away, running with his back turned, just shot and got lucky," Waka said. "You're not a killer. A killer is someone that looks someone in the eyes and gives it to them. Face-to-face, that's a killer. That ain't no killer. A guy got his back turned and he's running. That ain't no killer in my book."
YIKES.
PEEP THE FULL "BREAKFAST CLUB INTERVIEW" INTERVIEW UP TOP!
Be the first to receive breaking news alerts and more stories like this by subscribing to our mailing list.