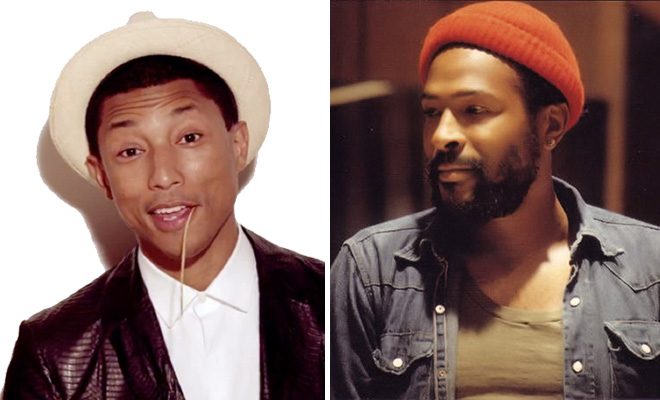 Pharrell Williams may love Marvin Gaye, but he doesn't like accusations that he blatantly copied the soul legend's material to create the Robin Thicke performed megahit, "Blurred Lines."
Speaking with the Associated Press, Black Benjamin Button slammed the recent lawsuit waged from members of Gaye's family.
Given Pharrell appears as nice as they come, he didn't throw Gaye's living relatives looking for a payoff under the bus. Still, he made it clear that if you know music composition, you know he didn't really steal from the Motown crooner.
"I'm a huge fan of Marvin Gaye. He is a genius. He is the patriarch," Pharrell said Thursday night.

The hit-making singer and producer collaborated with Thicke on the No. 1 smash, which some have said sounds very similar to Gaye's "Got to Give it Up."

Last month, Pharrell, Thicke and the song's other collaborator, T.I., filed a lawsuit asking a judge to determine that it does not copy Gaye's song and a song by George Clinton. It was a pre-emptive strike against future claims from Gaye's heirs that the song takes from Gaye's composition without credit.

Pharrell told The Associated Press on Thursday night the two songs aren't similar at all.

"If you read music, all you have to do is read the sheet music. It's completely different," he said on the red carpet during an event for the Calvin Klein Collection during New York Fashion Week.

Gaye "is the king of all kings, so let's be clear about that. And we take our hats off to him," he said. "But anybody that plays music and reads music, just simply go to the piano and play the two. One's minor and one's major. And not even in the same key."
And that's why this lawsuit seems silly. Sure, Robin Thicke has a knack for borrowing heavily from the vibe Marvin Gaye created his works long before "Blurred Lines," but there's a difference between taking influences from someone and creating your own song and blatantly ripping them off.
Leave Pharrell alone. Why? Because it's Pharrell. And If that's not good enough for you, go listen to a bunch of old Neptunes tracks. He needn't copy anyone.
Bonus: Go Google pictures of Pharrell too. You know, if you're into that sort of thing.
Be the first to receive breaking news alerts and more stories like this by subscribing to our mailing list.