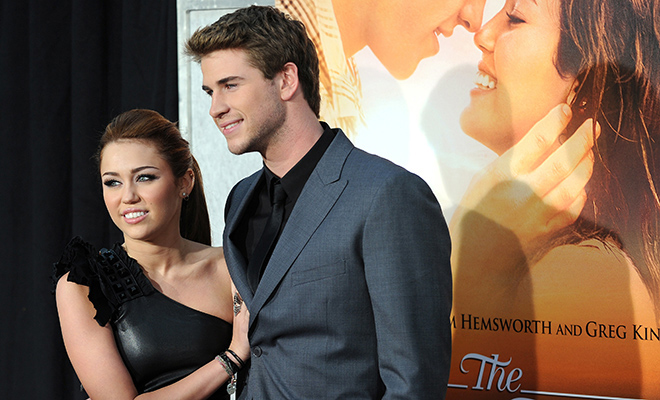 In news that should surprise literally no one, Miley Cyrus and Liam Hemsworth have reportedly called off their engagement. You know, that same engagement we already thought was over with a long time ago.
It's been speculated for some time that Miley and Liam weren't together anymore, but the rumors went into overdrive the other day when Miley unfollowed Liam on Twitter, and their reps confirmed the break-up to People on Monday afternoon (Sep 16).
So what could have possibly been behind this break-up, you ask? Was it the twerking? It HAD to be the twerking, right?
Right after the Miley Cyrus twerkfest VMAs aired last month, an insider (probably Liam himself) ran to Radar and told them that though the actor wasn't there to see it live, but he was "absolutely mortified" by his fiancee's raunchy performance after it aired and everyone was talking about it:
"Liam really does care about Miley, but her racy new look and sort of ghetto attitude isn't exactly what he signed up for," a pal tells Radar. "Her VMA performance absolutely mortified him and he couldn't be more embarrassed. He doesn't really see anything sexy about what she did on stage."

"It's not just Liam that Miley is pushing away…his entire team is urging him to part ways with her because she's nothing but negative for his reputation and career," the source says. "Liam is a serious actor with a growing career, while Miley has just turned into a joke."

"It's pretty much over. He knows he can't stay with her when this is who she's become," the source concluded. "He doesn't want to babysit her anymore. He has to move on."
Yup, it was definitely the twerking.
Make that now TWO things Miley Cyrus' newfound ratchet persona has cost her.
Be the first to receive breaking news alerts and more stories like this by subscribing to our mailing list.