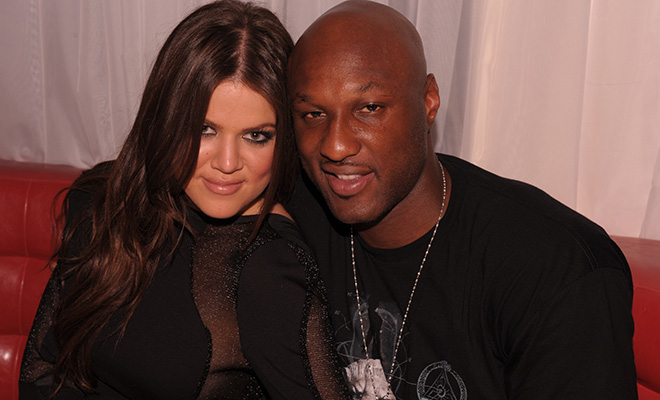 Though Khloe Kardashian and Lamar Odom's marriage is in serious jeopardy, it isn't the allegations of drug abuse or rumored affairs with multiple women that have been the most devastating aspect for Khloe. It's the fact that Lamar seems to be throwing his career away and risking his own life.
Amid rumors of an impending divorce, Khloe & Lamar will officially enter their fourth year of marriage on September 27th, and it doesn't look like the couple will be able to celebrate the occasion, though Khloe is said to be doing all she can to help her troubled husband recover.
"If Khloe could have anything for her anniversary, it would be for Lamar to once and for all go to rehab," a source close to the reality star told HollywoodLife.com. "Initially Khloe had mentioned taking a romantic vacation in the tropics to celebrate their anniversary.
Added the source, "She thinks Lamar will eventually come to his senses and realize what he's been missing. I don't think she fully realizes that his addiction has nothing to do with her — it's a disease of the mind, body and spirit. And it's genetic. I think Lamar is still in denial about the severity of his addiction."
But apart from the denial, the lies and the emotional distance Lamar has created between himself and his wife, what bothers Khloe the most is the fact that Lamar doesn't seem to care that he's throwing his career away and putting his own health at risk in the process.
"She's severely disappointed in him for not taking his life seriously," said another source. "He's been fortunate to play in the NBA. Do you know how many guys dream of that? It's a gift, Khloe told him, and it's like he's blowing it off and she's pissed."
The source added, "[Khloe] doesn't want her man to die and she's fighting to save their marriage … She's a strong woman though, out there putting up a brave face for the world when her husband is spiraling out of control, and in a very bad way."
Do you think Lamar can "come to his senses" in enough time for he and Khloe's four-year wedding anniversary later this month?
Be the first to receive breaking news alerts and more stories like this by subscribing to our mailing list.