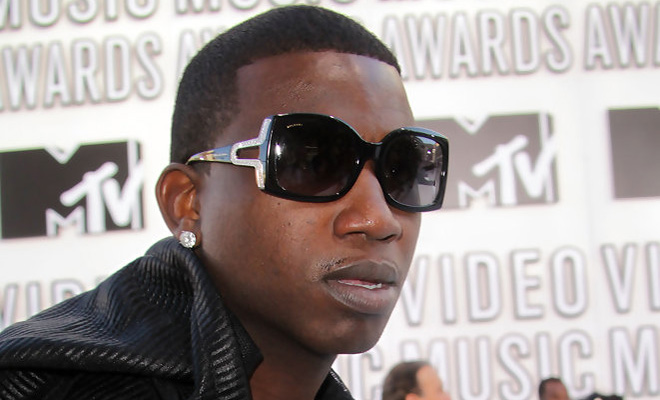 Gucci Mane's "worst week ever" has ended on a low note, as TMZ is reporting that the troubled rapper has gotten himself arrested in Atlanta after an altercation with police.
Apparently, Gucci was hanging out with a friend late last night when all of a sudden he started behaving erratically. Gucci's friend then noticed some cops nearby and waved them down, but when they approached him, Gucci began "cursing" them out and "threatening them," according to TMZ.
Guwop was immediately arrested and as he was being taken into custody, police found a small amount of marijuana and a handgun on him.
He was booked on charges of carrying a concealed weapon, marijuana possession and disorderly conduct before he was taken to a nearby hospital (just to be on the safe side) where he currently remains.
Gucci's arrest caps off one helluva week for the Atlanta rapper, who went on a Twitter tirade for several days, calling out members of his Brick Squad label (including his former BFF Waka Flocka Flame) and many other notable figures in the music industry, including Drake, Eminem, Nicki Minaj, and even R&B singers like Fantasia and Kelly Rowland.
Following his bizarre Twitter outburst, Gucci announced that he was releasing a new project 'Diary of a Trap God' for sale on iTunes, but he eventually decided to just give it away for free and was subsequently dropped by his record label Atlantic Records.
Gucci later deleted his Twitter, and on Thursday, he was captured on video squaring up with some random guy at the Lenox Square mall in Atlanta.
This morning's incident marks the third time Gucci Mane (real name: Radric Davis) has been arrested this year alone.
Back in March, the "Spring Breakers" star turned himself in to police custody after a warrant for his arrest was issued after he was accused of hitting a picture-seeking war veteran over the head with a bottle at a nightclub in Atlanta. He had also been accused of punching another man in the face who tried to shake his hand after a performance in Philadelphia.
Several weeks later, after he had just been released from jail on bail, Gucci was arrested again for a parole violation, and was released just a few weeks later on May 2nd 2013.
Be the first to receive breaking news alerts and more stories like this by subscribing to our mailing list.