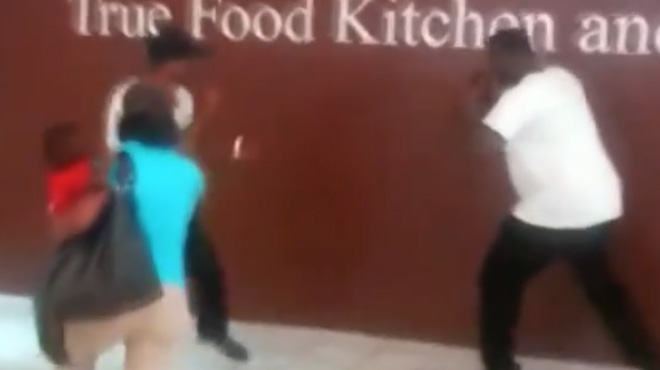 Gucci Mane is like that crazy, pot-bellied uncle at the family cookout who you know has mental problems (and, seriously, mental health is NO laughing matter) … but you still can't help but laugh at his impetuous tomfoolery.
After getting dropped by his label and going on an epic Twitter rant in which he name-dropped nearly everyone who has ever done anything, Gucci Mane seems to have deleted his Twitter account, but one thing he has not deleted is his ability to stay in the headlines.
A 30-second video clip being passed around all over the Internet shows Gucci alone at Lenox Square Mall in Atlanta and almost getting into a fight.
Without any official context to go by, it's hard to tell exactly what had Guwop so pressed. But apparently some guy walked up to him, and the two ended up squaring up, but luckily a woman (with a baby in her arms, nevertheless) broke them up before any blows were thrown.
Just another day in the life of Gucci Mane.
WATCH THE VIDEO CLIP UP TOP!
[H/T: Vlad TV]
Be the first to receive breaking news alerts and more stories like this by subscribing to our mailing list.