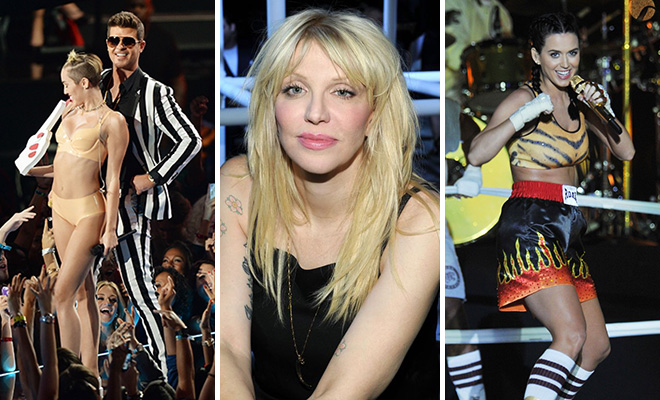 Rocker and walking personification of reckless abandonment, Courtney Love, tore into Katy Perry and Robin Thicke in a quick interview on Monday.
Appearing at the book release party for Scott Lipps' PopLipps, Courtney did a little nice and nasty mix when opining about Miley Cyrus and Katy Perry.
Courtney said, "I liked Miley, frankly. I'm gonna be honest, Katy Perry bores the [bleep] out of me. She's a nice girl, she just really bores me. [But] you know, that hillbilly Miley Cyrus is sort of punk in a weird sex way."
If by punk you mean willing to act a donkey in order to prove how "grown" she is to a room full of adults? Then, yeah, sure, she's punk alright.
Meanwhile, Courtney then laid into Robin Thicke, quipping, "Can someone inform me who Alan Thicke's son is? Like what? Wasn't [he on] 'Charles in Charge'? That's like Jared Leto trying to convince me he's a rock star."
Actually, sis, Scott Baio was the star of Charles in Charge and Robin serves crooner, not rocker.
Maybe Courtney is one of those folks who didn't know what a Robin Thicke was until it sang about blurred lines over a Marvin Gaye inspired beat. Or hell, she could just be so high that she forgot, because Courtney is always high (or drunk, sometimes both). It's her "thing."
Whatever the case she can go. Yes, I liked Teenage Dream and will defend Lady Perry. Alan's boy, too. Shoot.
Be the first to receive breaking news alerts and more stories like this by subscribing to our mailing list.