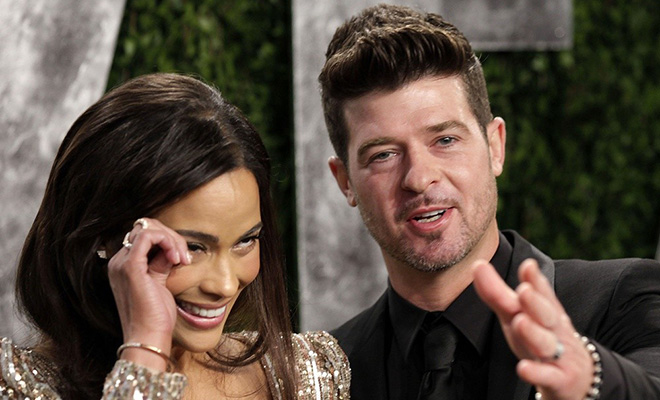 Robin Thicke has finally addressed the "photo scandal" centering on him palming a woman's ass that didn't belong to his wife in a photo that quickly went viral thanks to social media.
And by address, I mean sidestepping a direct response, instead offering a schmaltzy summation of his marriage to wife Paula Patton.
You know, I'm sure he and Paula have a lovely time together, but dude, you were photographed with your hand on another woman's ass. It's not like people are exactly tripping for going, "Hey, what's that about?"
In any event, here's what he told Star magazine:
My only comment about the so-called scandalous photo would be that my wife and I are perfectly in love and very happily married. [We have] the greatest love of the century, and the most functional, dysfunctional marriage in Hollywood. I knew she was special the night I met her. I was only 14, but she was already the most special girl. As a relationship progresses, you fall in love again in so many deeper ways. You realize that you need each other and you can't live without each other.
Great, now people are going to think y'all are swingers. I say that because "functional, dysfunctional" is a cute way of saying that some "things" may happen in the marriage, but it's rather commonplace or at least understood.
Whatever, if y'all swing, keep on swinging. Just don't be surprised if people keep asking, though. And watch your hands in photographs.
Be the first to receive breaking news alerts and more stories like this by subscribing to our mailing list.