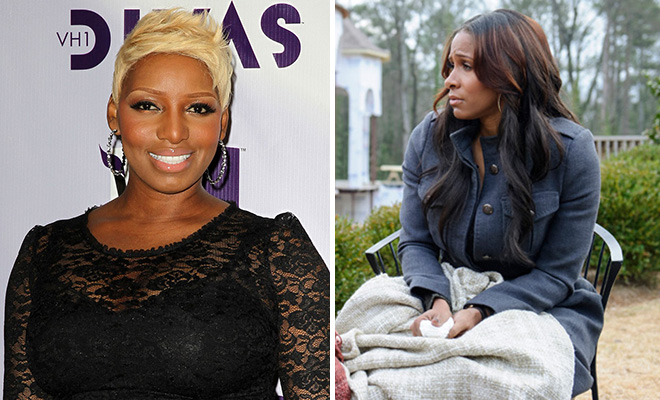 NeNe Leakes may be a mean-spirited, bull-headed showboat, but one can't deny that one of the best ways to surmise her career at this point is by singing the hook of DJ Khaled's "All I Do Is Win."
Even so, no one likes a sore winner and good lord, is she ever one. Case in point, a new rumor that NeNe is running 'round the ATL (shawty) mocking Sheree Whitfield's bad luck. Specifically, the fact that her "Chateau Sheree" mansion went into foreclosure before the damn thing was even finished.
Of course, the two have been at odds for years so maybe it's somewhat understandable that she feels victorious, but why kick her while she's down?
The National Enquirer claims:
After learning that her one-time pal Sheree's home was in foreclosure, NeNe blurted out: "I told you so!"

Nene, 45, and Sheree, 43, have known each other since before their days together on "RHOA" – and insiders say they were in competition long before they ever set foot in front of the cameras.

When the hit Bravo reality show first started filming, it appeared Sheree – as the wife of ex-NFL player Bob Whitfield – was the wealthier and more glamorous of the  two women.

But over the past few years, NeNe's career – and bank account – has skyrocketed. Not only has she landed spots on "The New Normal," "Celebrity Apprentice" and "Glee," she's also now the highest paid "Housewife" of all time, pulling in $1 million plus bonuses for Season 6.

She's even got her own spinoff series, "I Dream of NeNe," which premieres on Bravo on Sept. 17.

Meanwhile, Sheree was dumped from "RHOA" after the show's fourth season. Now, she appears to be drowning in debt and was sued for unpaid legal bills. The government reportedly has filed a tax lien against her for unpaid taxes, and she's about to lose the home she had been building to foreclosure!

And NeNe saw the writing on the wall from the beginning. "When NeNe first heard about Sheree's plans to build a McMansion in Atlanta, she dubbed it 'Neverland' because she was sure Sheree was never going to finish it," said the insider. "She was correct – Sheree's house is still not finished. And NeNe is laughing – all the way to the bank."
Yeah, just as easy as it was to pinpoint how some of Sheree's spending habits and overall character traits point to potential problems in the future, the same can be said of NeNe.
NeNe has managed to take her stereotype and sell it well, but there's always another waiting in the wings to take your place. And well, her sitcom got cancelled.
Humble thyself, the both of you.
Be the first to receive breaking news alerts and more stories like this by subscribing to our mailing list.