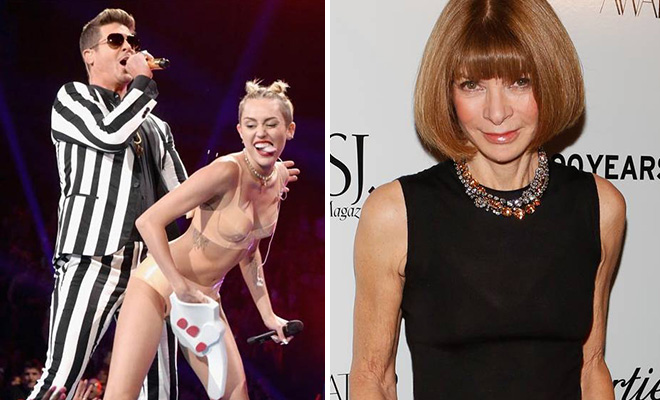 Landing on the cover of Vogue magazine is something every celebrity wishing to achieve worldwide mainstream success would like to accomplish, but the key is far beyond being "talented" or "successful."
Vogue's EIC Anna Wintour has to actually like you, and if she dosesn't? Well, there goes your chances of getting your own Vogue cover.
Kim Kardashian is learning new ways to cope with this every single day, and now Miley Cyrus has found herself on Ms. Wintour's bad side following her twerktastic VMA performance last month.
According to a report from the Daily Mail, Miley had been photographed for the cover of the upcoming December issue of Vogue.
But after watching the 20-year-old grind all over Robin Thicke and play with her lady parts with a large foam finger, all while dressed in a flesh-colored latex bra and panties, Wintour had a change of heart.
All of that twerking and those dancing teddy bears probably didn't help either.
"Anna found the whole thing distasteful," a source said, adding that Wintour wanted to "champion her as a new fashion icon," but "she decided, based on Miley's performance, to take the cover in a different direction."
Sadly, even losing the cover of Vogue won't stop Miley from twerking though.
Be the first to receive breaking news alerts and more stories like this by subscribing to our mailing list.