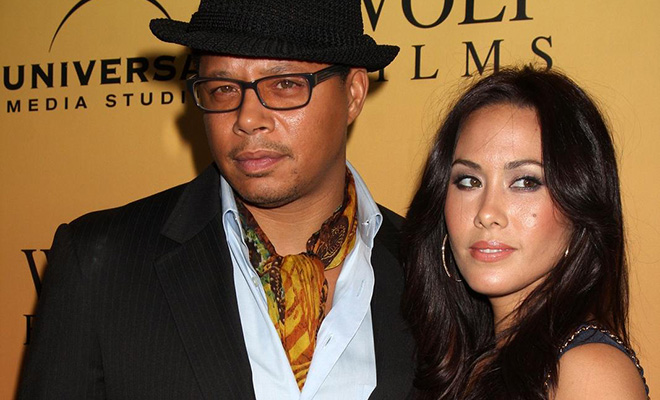 Terrence Howard's ex-wife Michelle Ghent has released the text messages the Oscar-nominated actor allegedly sent to her after a heated domestic incident in Toronto earlier this year, and let's just say … they don't make him look very good. Not even in the least bit.
The New York Daily News obtained the court documents that describe the bizarre messages, in which Howard threatens to kill himself and Ghent, and says he will become "Satan Himself" and "seek my vengeance upon humanity for all wrongs ever done to me."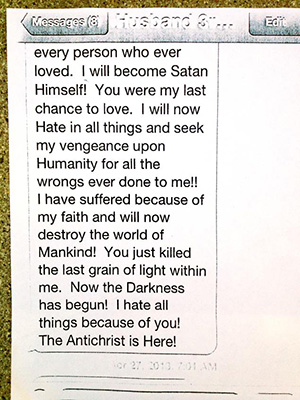 In the weeks leading up to the couple's May 2013 divorce finalization, Howard is said to have flown into a violent rage after Ghent turned down his request for them to reconcile, on account of him being a cheater and a liar. She says she found phone numbers for SIX different women in his bag.
In a sworn court statement last month (when Ghent filed for a temporary restraining order after another violent incident with the actor in Costa Rica in July), Ghent said Howard tried to play dumb about the phone numbers at first, but when she called one of the women on speaker phone, he attacked her.
According to the Daily News:
The "Hustle & Flow" actor allegedly erupted, shattered his wife's computer by tossing it out a window, "grabbed" her arm, caused her to fall and then lifted her off the ground by her sweats and T-shirt so he could throw her back down again, the documents claim.

"He grabbed an X-Acto blade and put it to his wrist as if to cut himself," her filing states. He then reached for the "belt on his robe and displayed attempts to hang himself."

"I'm just thinking if I should kill you first before killing me," he purportedly said.

The new filing includes lengthy text messages Howard allegedly sent in the subsequent week apologizing for his actions, promising to see a psychiatrist and venting frustration at his wife's lack of response.

"If this is goodbye, then I hate everything and will now use my gifts to destroy mankind," an April 27 text attributed to Howard reads. "I will become Satan Himself! You were my last chance to love. I will now Hate in all things and seek my vengeance upon Humanity for all the wrongs ever done to me!! … The Antichrist is Here!"

The new revelations come after Michelle Howard, 36, won a temporary restraining order last month with claims her now ex-husband "sucker punched" and "kicked" her in the head during the July 29 fight in Costa Rica.

Howard, 44, has denied the allegations and said she is the one who lost her cool in the vacation home.

""(She) suddenly went crazy for no apparent reason, said 'I told you not to f— with me,' and she took out a canister of mace/pepper spray and proceeded to spray me with it," he wrote in his sworn statement to the court.

He said she fled the property while he was flushing out his eyes and had no visible injuries when he saw her the next morning.
Here is a photo clearly showing Michelle with a black eye after the Costa Rica incident: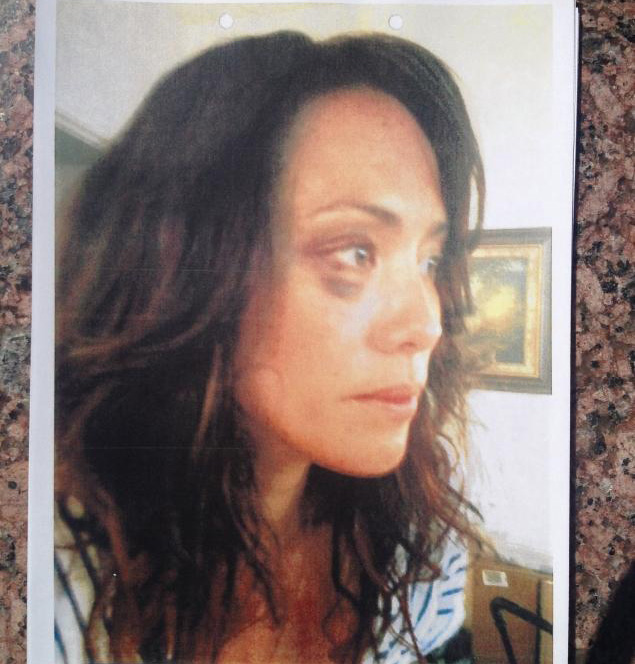 Additionally, Howard claims Ghent timed her court filing to interfere with the premiere of his new movie "The Butler" in an effort to "ruin" his reputation, and he also said she threatened him in a series of text messages allegedly sent in the days surrounding their divorce.
The couple, who wed in January 2010, have faced each other several times in court, and Ghent has accused Howard of domestic abuse and infidelity several times throughout their three-year marriage.
So who do you believe? The woman with text message screenshots and pictures of a battered face? Or the guy who says he couldn't harm a fly?
Be the first to receive breaking news alerts and more stories like this by subscribing to our mailing list.