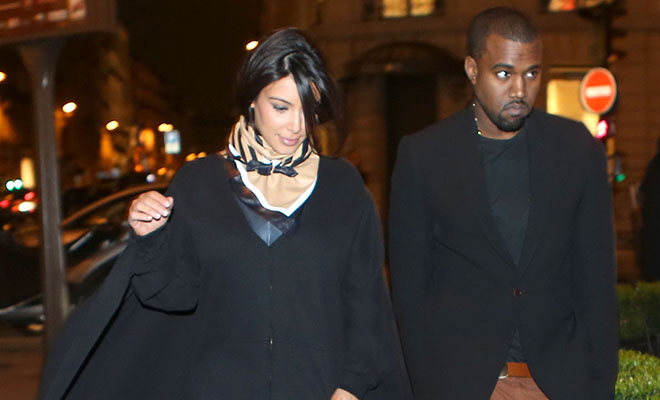 Kanye West has had Kim Kardashian looking the overstuffed fool since the two became a couple, but apparently she loves every bit of it. She's under the unfortunate impression that not only does she look great, but "sophisticated."
Yes, nothing screams sophistication like manic ranting Kanye West. Nonetheless, these two are made for each other and are equally obsessed with attaining a certain level of success. They're a match made in superficial heaven. You know, despite looking the fool.
Nonetheless, Radar reports:
"Kim really didn't like it when Kanye first started to take over her whole life, she felt like he was criticizing her, but now she's happy with how she sees herself changing," a source close to the reality star told RadarOnline.com.

"Ever since she had baby North she's been trying to conform to what Kanye wants, like staying out of the public eye and getting a makeover to look more glamorous, and she likes the results.

"She feels like she is becoming more sophisticated by following his advice."

As RadarOnline.com previously reported, Kim was torn between her baby daddy and her mother, Kris Jenner, who both wanted to manage her career choices, but now she's firmly behind Kanye's decisions.

"Kim realizes that what Kanye wants for her is to move up a social ladder that she's anxious to climb, and by doing what he says she believes she will reach another level of fame," the source said.

"Kanye has big plans to totally revamp Kim's whole life.

"He is specific in what he wants her to look like and dress like and she's happily going along with the plan now. There are more big changes planned and it seems like Kim is totally on board with everything Kanye wants."
Talk about unrealistic expectations. Kimmy, I occasionally adore thee, but there's a certain reality you need to contend with. Like, sis, you'll always be a sex tape maker and reality star with no "talent" to many. Obviously, you're more than that, but you can't okey doke your way into an uppity crowd that doesn't like you.
Be the first to receive breaking news alerts and more stories like this by subscribing to our mailing list.