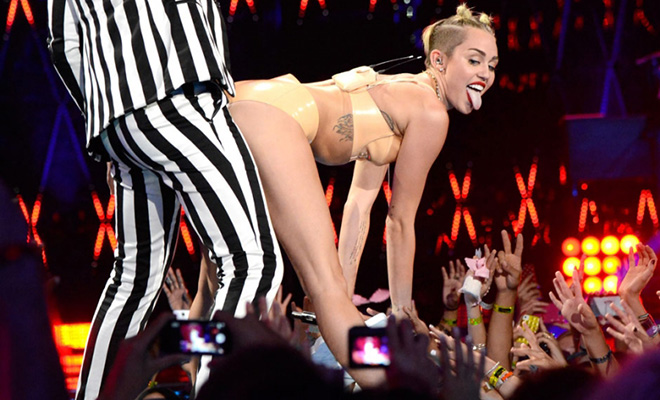 Miley Cyrus isn't a great dancer, she's a so-so singer, and when talking about her performance skills overall, she's about one step ahead of a sedated Britney Spears. Well, a step ahead of the Britney Spears we saw around the time of the 'Circus' album.
With that in mind, one can't help but roll their eyes from the front, back and then side to side at the idea of Girl Billy Ray putting herself on the same level as The Legendary Ms. Britney Spears. And that's exactly what she did in a new interview with MTV.
As part of a larger documentary, Miley discussed her history-making VMA performance and how it now places on par with Madonna and Britney Spears.
Seriously, that's what she said. I wish I were making it up, but I'm not.
"What's amazing is I think now, we're three days later and people are still talking about it. They're over thinking it," she says. "You're thinking about it more than I thought about it when I did it. Like, I didn't even think about it 'cause that's just me."

And, to that point, Cyrus isn't going to let her detractors hold her back. She's doing things her way, defining her career on her own terms. After all, though she may be just 20 years old, she certainly knows a thing or two about pop history.

"I don't pay attention to the negative because I've seen this play out so many times," Miley asks, "How many times have we seen this play out in pop music?"

"Madonna's done it. Britney's done it. Every VMA performance, that's what you're looking for; you're wanting to make history."
Miley's performance is "history-making" in the way of her making a giant fool of herself in the age of social media and gifs made out of Rihanna eyerolls.
Madonna and Britney's VMA performances are remembered because they were legitimately good performances that went along with the spectacle and controversy.
Miley's offbeat dancing and tongue wagging will be remembered because she looked like a damn fool.
Be the first to receive breaking news alerts and more stories like this by subscribing to our mailing list.