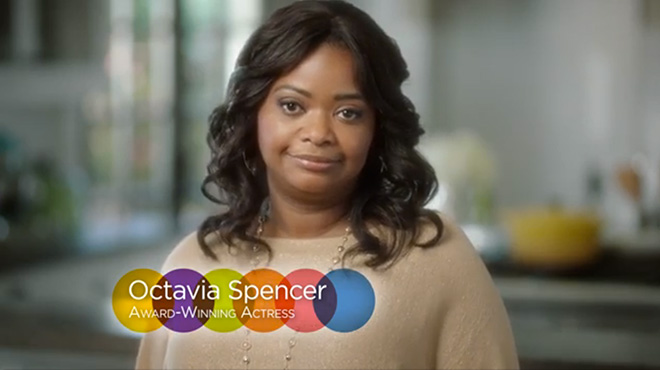 Octavia Spencer is one of the most talented actresses working today. Not only did she take home an Oscar for her role in "The Help" in 2011, her recent turn in the riveting drama "Fruitvale Station" will stay with you for days.
So it's a shame that she was approached by a weight loss company to endorse a "miracle" supplement, thereby publicly focusing on her appearance instead of her immeasurable talent.
Spencer reportedly signed a deal to rep Sensa, a powder that one can pour onto their food in order to feel fuller quicker. Call us crazy but that doesn't sound appetizing or healthy in the least bit.
WATCH ONE OF OCTAVIA SPENCER'S SENSA COMMERCIALS HERE:
But of course, the company claims that those who use it can lose 30 pounds in six months. Yet, as the Hollywood Reporter notes, the product's effectiveness has not been proven. It has, however, been endorsed by the Millionaire Matchmaker, but that should be even more of a reason not to buy it.
Now it's been revealed that Spencer is suing Sensa because she is still owed $700,000 of her $1.25 million contract. (Sidebar: Spencer says she turned down a $3 million offer from another weight loss company)
Sensa is said to have approached the actress following her Oscar win with an endorsement deal. Spencer later made it known to the public how much she was paid to promote the product. So is her honesty the reason the company is withholding her pay?
walking thru the mall i hear: is that her, the lady from the Help, answr: No she's too "skinny". Thanks @SensaWeightLoss #MadeMyDay #Spon

— octavia spencer (@octaviaspencer) July 17, 2013
Apparently, although Spencer lost weight and bragged about the product's results publicly, she added the hashtag "#spon" to her tweets about Sensa — meaning that her endorsement was sponsored.
As THR points out, the Federal Trade Commission requires those who are endorsing products via Twitter disclose whether not not they're being paid to do so. Still, Sensa was not happy about this, nor were they happy about the fact that, according to them, Spencer wasn't a big enough name to rep their product.
So let's get this straight. Sensa is trying to get out of paying the money Spencer is owed because she did what she was legally obligated to do and because they thought she was more famous? Ridiculous!
Read the whole story over at The Hollywood Reporter.
Be the first to receive breaking news alerts and more stories like this by subscribing to our mailing list.