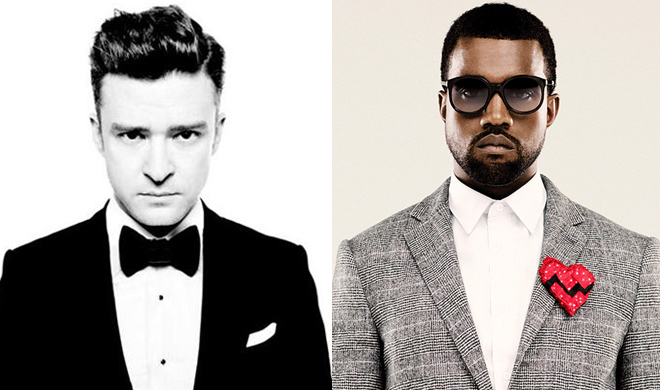 If there's one thing that's true about Kanye West, it's that he can be a jealous kind of mofo.
When word about Jay Z and Justin Timberlake's collaboration hit, the Internet was abuzz with delight and excitement. And once the track was officially released, glory and hallelujah were proclaimed all over the land.
But Kanye West was bitter, mad and filled with envy.
"And I got love for Hov but I ain't fucking with that 'Suit & Tie'," Yeezy said while onstage at one of his concerts.
The diss was odd, since Ye had gone out of his way to praise Timberlake in the past: "If Justin hadn't come out and killed the game, I can't say that my album, singles and videos would be on the same level that they're on," Kanye said in a 2011 XXL interview. "We push each other. I look at me and Justin like Prince and Michael Jackson in their day."
If you'll recall, Justin didn't take Ye's "Suit and Tie" diss lying down. He struck back with a sly dig while performing on SNL saying, "My hit's so sick got rappers actin' dramatic."
But all of that is water under the bridge, because Justin says that he spoke with Kanye for about an hour while the two were at the VMAs and they hashed things out.
Justin spilled the details in an interview with Sway on Sirius XM Radio.
"We actually spoke for like an hour at the awards," Justin said. "I respect his opinion because I think he's a genius, but I don't share that opinion."
The exchanging of barbs kept the blogs entertained, but Justin sees it as "not that big a deal."
The real question in Justin's mind was whether Kanye had an issue with the song or with Jay Z collaborating with Justin.
"I think I didn't know if he didn't like the song or if he didn't like the collaboration with me and Jay because I was told a couple different things," he added.
But judging by the rest of his story, it sounds like Kanye was a Bitter Bruno because he wasn't included in the J/J collaboration. What a Petty Peter.
WATCH JUSTIN EXPLAIN THE STORY WITH SWAY BELOW:
Be the first to receive breaking news alerts and more stories like this by subscribing to our mailing list.