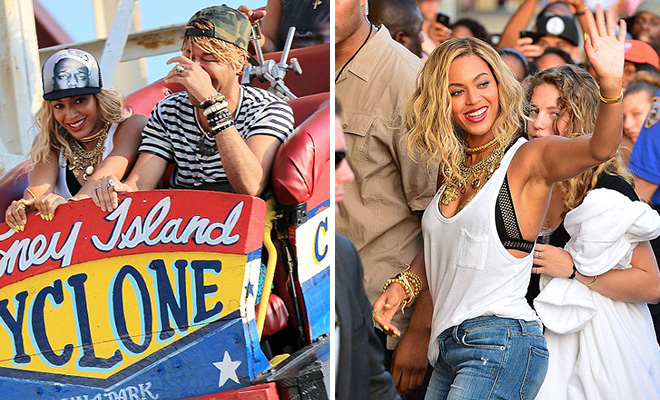 Beyonce still hasn't fed her fans' appetite for a new single, yet she's been teasing them all year, with stuff like her "Super Bowl" performance, that Pepsi commercial, random song leaks (see: "Grown Woman," "Standing on the Sun," and "Bow Down"), and a world tour that sold out in less than 10 minutes because this world is a terrible place to live in.
Now, she's filming a music video for a single no one on the outside has heard or even knows exists, which is good, because surely everyone's tired of the songs that's already been put out.
Smart move on her part, but whatever it is, IT. BETTER. BE. GOOD.
That said, Beyonce was all smiles Thursday as she shot the video for the aforementioned mystery single at a theme park in Coney Island.
She rode the Cyclone roller coaster with her stylist Ty Hunter and was surrounded by fans as she made around the amusement park. If you look closely in the pics, you'll see supermodels Jessica White and Jourdan Dunn amongst the crowd, near Beyonce.
[H/T: Daily Mail]
CHECK THEM OUT THE PHOTOS HERE:
Be the first to receive breaking news alerts and more stories like this by subscribing to our mailing list.