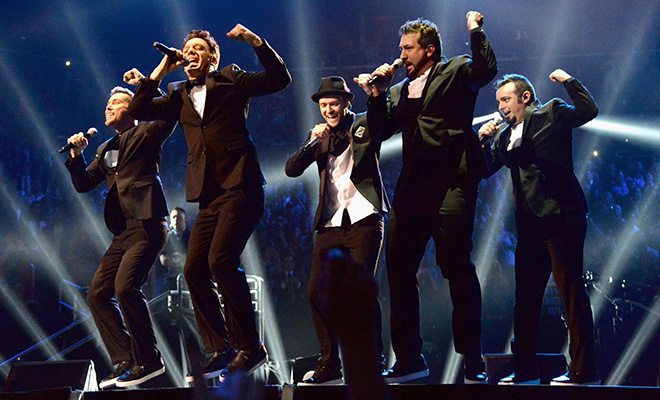 Let's face it, the much-hyped *NSYNC reunion at the 2013 VMAs was a blink and you'll miss it moment. The band members basically made a brief appearance during a mini Justin Timberlake concert. Or at least that's what it felt like.
But even though it seemed as if Timberlake couldn't wait for his former bandmates to get the hell off the stage and out of his performance, the "reunion" was actually his idea.
In an interview with "On Air With Ryan Seacrest" on Monday, J.C. Chasez revealed that the "Sexy Back" singer was the one who decided to get the pop group back together for a small portion of his performance.
"It was just a matter of time. Everybody would ask us, 'When are you guys going to do something?'" Chasez said. "First of all, it was the worst-kept secret ever, [but] Justin gave me a buzz and he said, 'Hey man, listen. I'm getting this award and they have given me a pile of time to perform and we started our careers at MTV and I think we should get the band back together."
The performance was part of JT receiving the Michael Jackson Video Vanguard Award and if you ask me, it went on way too long and seemed under rehearsed. Sure, it was probably the night's best performance, overall, but that's not really saying much.
Sadly, *NSYNC, who ended their pop music reign 11 years ago, aren't as great at executing dance moves as they once were.
"Everyone was going, 'Can we go through this one more time slowly?' … So that part was pretty funny," Chasez said.
Right up under Justin, J.C. was once the second most famous member of *NSYNC, but that all changed when Lance Bass came out of the closet.
But just because the five joined forces on Sunday night doesn't mean they're reuniting for good. J.C. says don't expect too much else in the near future.
"It was just about five guys who were great friends who spent 10 or 15 years together touring and we … wanted to give that back to our fans, but we were there mainly to support Justin."
Translation: Justin Timberlake is a major star who is too busy recording hit albums and starring in movies to revisit his past for more than two minutes.
Source: PEOPLE 
Be the first to receive breaking news alerts and more stories like this by subscribing to our mailing list.