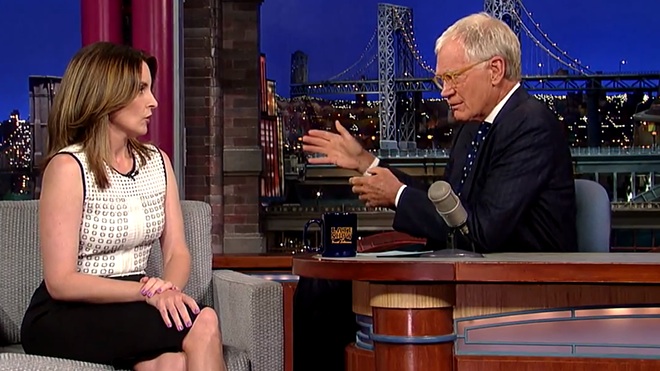 These days, most people shouldn't be surprised that everything they do may or may not be caught on film.
This is especially true of celebrities, who can expect that everything they say or do — sometimes even in the privacy of their own homes — could potentially be used against them in the future.
So, if you're a person who's working for or with a star, you'd probably want to avoid doing anything that you don't want the world to know about.
Apparently, no one told that to the idiot who stole Tina Fey's computer.
Vulture is reporting that the iconic "30 Rock" alum had her laptop stolen right from her NYC office, and the entire thing was caught by surveillance cameras. Doh!
The alleged thief has been identified as one of the moving guys, but his name is currently unknown. That probably won't be the case for long though, thanks to David Letterman.
Fey appeared on the "Late Show" on Wednesday and Letterman chose, against legal counsel, to air footage of the perpetrator walking off with Fey's computer inside a manilla envelope. Even though his face is blurred out, someone out there must know something.
Now, you may be wondering to yourself: "Why on earth should we care that someone stole Tina Fey's laptop?" Well, apparently, it has all of her new jokes! So this guy didn't just steal a laptop from Fey, he stole future laughter from our lives. And for that, he should be severely punished.
Be the first to receive breaking news alerts and more stories like this by subscribing to our mailing list.